For the last 6 weeks, I've been battling an upper IT band strain. Due to the pain, I was very depressed and withdrew from posting on SparkPeople because I felt I was not progressing. In fact, I was regressing! Inability to exercise without a burning pain wasn't something I wanted to post about.
Fortunately, I went to my local run shop - John's Run Walk Shop - to get a massage ball to try. John recommended a chiropractor who specializes in runner's injury therapy. He immediately diagnosed what was wrong and initiated a set of treatments which had me back to my training, just at a reduced pace. Meanwhile, my daughter - the real runner in the family - suffered a pulled hamstring. I immediately sent her to see Dr. Mike.
Mary Kate and I had both registered for the Kentucky Derby Festival Half Marathon earlier in the year. With both of us being treated for injuries, it did not seem likely that we could complete the race. Well, Dr. Mike said, "Yes, go ahead, but..." He told Mary Kate NOT to run it and me to slow my pace.
So we did both... walked and slowed the pace! I finished 10933 out of 11480 and 290th out of 343 in my age group.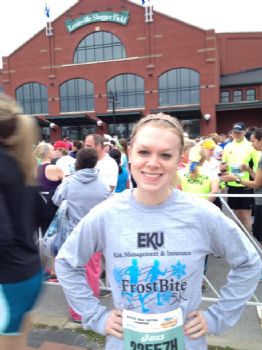 Mary Kate at the beginning - waiting for our Corral to get to the Starting Line. BTW, she was to be a seeded runner had she been able to run... bummer!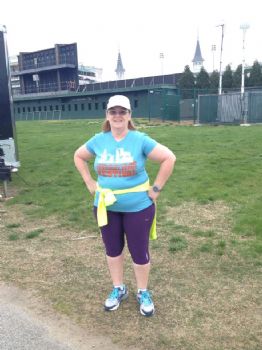 8.5 miles into the race, we did a lap around the infield of Churchhill Downs, home of the Kentucky Derby!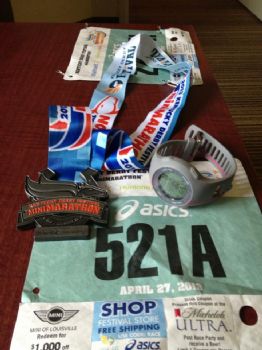 Proof I did it! My first BIG hardware!!!
Now to get completely healed up so I can do the Iron Horse HM in October!