I surfaced at 7.30am on Friday morning, to hear the rain lashing against my bedroom windows. I shoved my old cat off my chest, where he was comfortably disposed, and rolled over. Leastways I tried to. I stifled a groan as my muscles remembered the last evenings karate session.
Thirty minutes later, the cats were all fed and I was out of the door to travel across London for a walk with Chicchantal.
This time we were trying a fresh walk, and meeting at Amersham. As usual, I was there ten minutes early, and Chicchantal wasn't. Although we didn't know it yet, she was starting one of those days where inanimate objects take on a life of their own, and set out to bemuse, bewitch and generally thwart you, and her bus hadn't turned up on time. This meant she missed the train I was on, and was on the next one.
Her weather nose had been accurate however, and by the time I got there the sun was out, although a sharp wind was blowing. So I settled down on a bench on the platform and got involved in a Suduko puzzle. A little too involved as it happened, as I missed her arriving on the next train, and had to catch up with her outside, where she was about to panic, thinking she was at the wrong station, or I was. She eyed my sturdy walking pole doubtfully and asked if I were expecting mountains!
We only walked a short way before we were into the woods,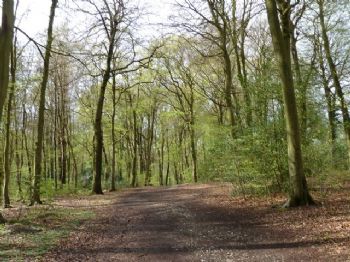 Immediately our eyes were caught by drifts of wood anemones.
My Mum always called them by their country name of 'windflowers'.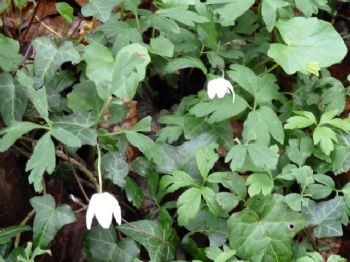 Also the first bluebells were just opening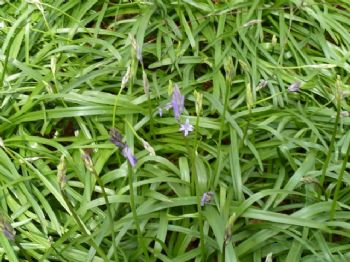 Coming out of the woods, we started to walk down to Amersham Village.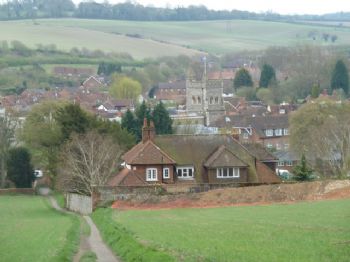 At about this point Chicchantal stopped to take a photo, and the next inanimate object struck, her camera batteries were running out of juice!
I had no such problems, and took some of a cottage with aubretia growing on its' walls, and a yellow corydalis, also growing on a dry wall.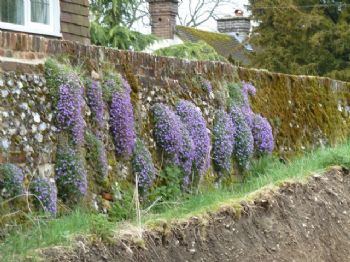 Amersham is a very old village, unfortunately ruined by modern developments, but some of the old buildings are still there.
In the village, we found a corner shop where Chicchantal was able to purchase batteries, and then we started to look for our footpath. It appeared to be down someones graveled drive! Just a little way down though we walked out into a field. Chicchantal stopped to replace the camera batteries, but, guess what? They had been in the shop so long, they were almost out of juice too!
Now we were walking on a wide path. We walked in friendly silence, each lost in our own thoughts, between the winter wheat, and hedgerows alive with birdsong. I had the unique experience of being too hot on my front, in the sun, and too cold on my back where the wind was blowing! Undeterred I put on my sunglasses and took off my raincoat. Within minutes it started to rain! Just a quick shower that was soon over.
We soon were walking beside fields with animals in. These very nosy young bullocks followed us along the fence the full length of the field. I don't know which breed they were, my cow identification skills are not so good as my wildflower ones!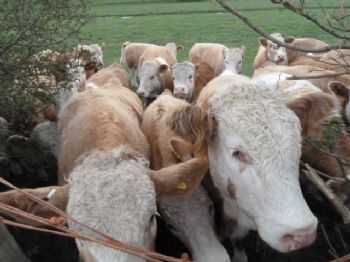 Then we crossed into a field with horses in. I thought this one in his smart rain mac was coming to say hello.
By this time Chicchantal was a small speck in the distance!
Back into a small copse again, and I was watching the hail bounce off Chicchantal's umbrella. It is almost a law in England that if two people are together, at least one will have an umbrella 'just in case.' Beside the path we saw white violets. I had never seen them wild before, then suddenly I'd seen then twice in two weeks! They were hidden too well in the grass for me to take a picture, but I took one of the Self-heal growing beside them.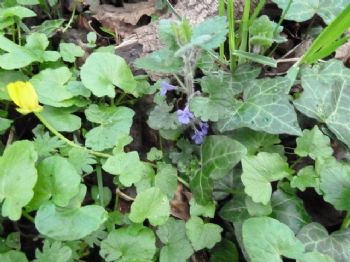 We dropped into the little village of Chalfont St. Giles. We had decided to take the Chiltern Way, which runs past Chorleywood, and we followed a sign that pointed us that way into a churchyard.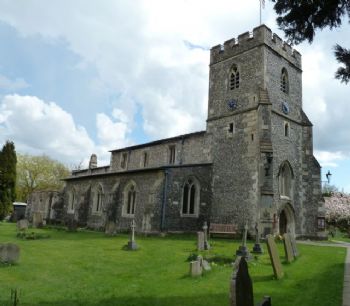 The parish church is very handsome, and pretty typical of this part of England. There was nothing there to tell us when it was built, but we found this headstone in the graveyard, dating from 1728.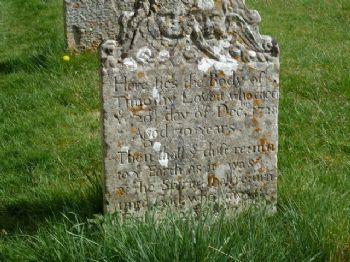 We then realized that the path ran the other side of the railings! We crossed over a swollen stream and found a boggy path.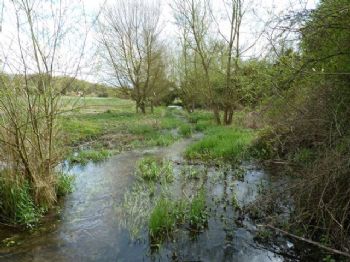 When we found that the stream was across the path and the whole field, it was time to find another way round.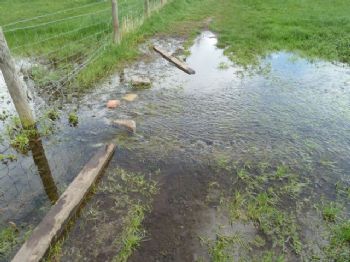 When we rejoined the path, we still found a muddy bit! Then my trusty walking pole came into it's own as we used it to help us round the puddles! I knew there was a point to bringing it, apart from fending off over enthusiastic dogs that is.
Soon, we were back into woodlands. Either side of the path was fenced off, and we couldn't see why. Then suddenly we realized that the whole of the ground, as far as the eye could see, was carpeted with bluebells!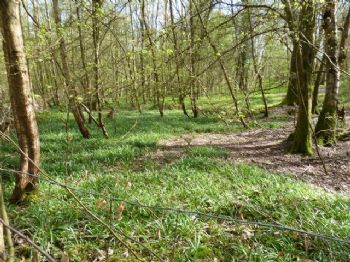 They just weren't out yet. Another week of warm weather, and the whole wood will be awash with blue, and the hyacinth scent will knock you out.
I walked on almost in a daze, everywhere I looked there were new wildflowers to marvel over.
Primroses,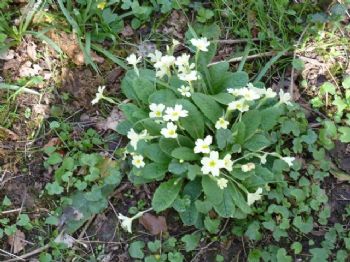 wood sorrel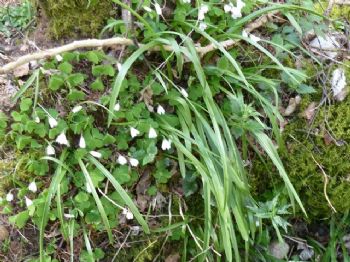 and dog violets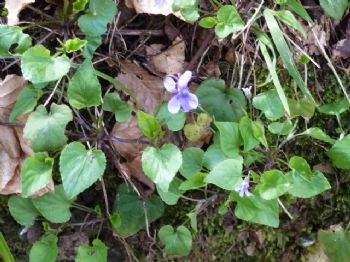 When we eventually emerged from the woods, there was a sunny patch, and there was Forget-me-not.
I was tiring now. We walked alongside the woods, going steadily uphill. Chicchantal stopped and read a notice about the woodland, and I took a picture of the wonderful light through the beech trees.
We finally turned off the Chiltern Way and carried on along a quiet road. Even there, there were flowers in the verges. This little one is stitchwort.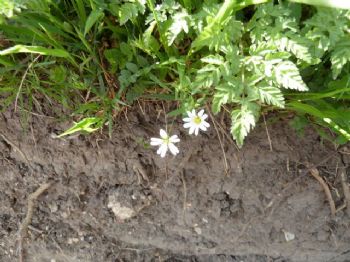 We were both keen to see the station now. It's always that last little bit that seems to take the longest. It wasn't helped when having found the village, and a path to the station car park, we were confronted with a flight of 30 or so steps that looked like the north face of Everest! Then at the top, we got lost in the car park! How could that happen! Our two intrepid explorers, lost in a car park! I ask you!