I've been running some lately, easing back into it; but even after a month or two of gradual building, seems I'm not approaching the speed or stamina levels where I once was not too long ago before the foot issues bogged me down. Not sure if it's age or a lack of determination or what, but I need a spark. I need a goal.
First, I'm into a new pair of shoes. I feel a little sad about leaving my beloved K-Swiss K-Onas, but my last pair have to be stale and K-Swiss is phasing the K-Ona out. I've returned to Saucony and fell in love with the Virrata. It's touted as a "natural running" shoe with minimalism in mind and none of the stability support that the traditionalists say you need if you pronate...which I do. But I'm going to give them a try and see if the barefoot movement and the "Born to Run" book wisdom bears fruit. The shoes are a bit wild, style-wise, for me...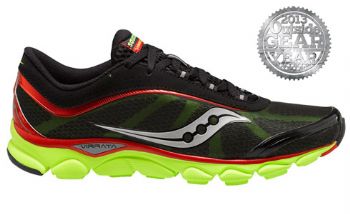 ...but I like the feel and we'll see if my ankles likes them. Just running 3-5 miles at a pop, and probably 15 miles a week max for now, trying to build strength, work on form and improve aerobic endurance. No target goals in mind yet. Kind of feeling things out to see if I want to shoot for a half marathon this summer.
I saw that Saucony was selling a limited edition of their Virrata and Kinvara shoes; ones that had been offered only at the Boston Marathon expo but which, I guess, they were selling off the surplus on their Website. After deciding that the Virrata was going to be my shoe for now, I figured a 2nd one to rotate in would be a good idea, and I loved the color scheme of the Boston version...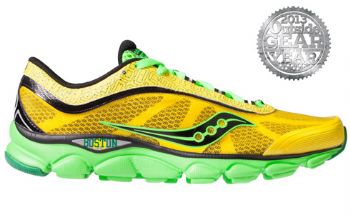 It wasn't until I went to place the order that I discovered that the only shoes left were giant size or micro. I even checked womens' since I can wear a 10 or 10.5 in that sizing. No dice.
I made an impulse buy, though, and bought the Boston version of the Kinvara 4. I've heard rave reviews about the new Kinvara ever since the Kinvara 2. The shoe arrived yesterday and it's more flourescent than the picture...
I almost don't even want to run in it. It feels like a collector's item, especially after the notorious events of this past Boston Marathon. And it's just gaudy enough to attract attention and stand out; not sure if that suits my personality. Makes me feel like I might not be a good enough runner to sport such a "loud" shoe.
But the freshness of getting new (bold) shoes might be the spark I need to start getting with a program and doing more than just fitness, fat-burning running. Looking forward to seeing if I can recreate that wonderful year of running I had in 2010, all while avoiding injury and physical breakdown from the pounding.
Oh, and it looks like I'll be getting a road bike next week: an entry-level Diamondback Podium 1 (2012 model).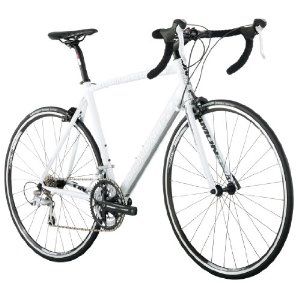 Maybe 2013 will finally be the year I try a triathlon.