BIBBULMUN TREK, WEEK FOUR: DAYS THREE AND FOUR –
NOTES, BROCHURES, AND PICTURES FROM MY JOURNAL:
DAY THREE:
The next morning at the Donnelley River Resort --
~~peeking out the front door to see if it is all clear.* Whew!! It is.......Come on, Gail and Bonbon, let's get a move on.... I see LJ and Kacey waiting. That hearty breakfast hit the spot. Now I am raring to go. Let's see, camera, sun hat, sunglasses, sun block, What I really need is a skeeter block.......those skeeters are huge....oh, wait, yup, my bug repellent is in my back pack. And we're off....
Walking along the Donnelley River makes me feel so vibrant and alive. I take a deep breath and sigh with the wonder of it all. Such beauty and such incredible variety. I had put down Blackwood River in my notes, but Ann corrected me. *grin* she told me no wonder I get lost so often if I cannot remember where I am at the moment….ahhh, Ann, it was just a temporary lapse, I promise.
Ann told us that we were coming to the area where the trout were, though the river is not very deep and more than likely not very many. So we press on, enjoying our walk through these glorious woods and see several birds, including some lorikeets. I really do love seeing those birds. Once again, I am blown away by the variety of wildflowers this close to the river. I love walking by the river, listening to the music it makes as it flows along softly at times and other times excitedly dances into the air. At times it is soothing and other times it is so exhuberant that I want to sing and dance along with it.
Here are a couple links that Ann found about the birds …the parrots and cockatoos of Oz that will give you a clearer picture of what we are enjoying on our trek on the Bibblumun Trail.
www.youtube.com/w
atch?v=JWZpXuJ4-Ys
www.youtube.com/w
atch?v=6Xk8pCTLMNw
what can I say? my head is up among the trees and then swiveling back to the river and then back to the underbrush......then back to......well, you get it......*grin*can I help it if I lose track of the time? Sometimes it may seem as if I am elsewhere but I am still here with my fellow trekkers. ... just a bit lost in thought........*grin*
oh,yeah I thought that I saw a croc earlier.....?? is that possible?
But I am informed that noooo, there are no crocs here…….they are elsewhere, like further north…..which relieves my mind immensely. Since I am here and they are there….that means that Good.......I am so glad I do not have to make like Crocodile Dundee.........though I would not come off as well as he did. *grin*
Heading toward the camp grounds. We are staying at the Boardinghouse camp site tonight. I am so happy to see it. Even though it has been an interesting hike today, especially walking beside the river, I am so ready to get some tucker and help Gail get the tent up. I think it will be an early night for me.....can I hear some hurrahs!! for the fact that I will not be singing.
Bonbon, where are you? I thought you were right behind me? I think you'd better sit down; you look a bit shaky.
I got some awesome shots of the bridges......wow, some of them were really scary and I had to blindfold Bonbon again, and lead her across them. But it was exciting too to see the OneTree Bridge......that is the one that I saw the picture of and could not remember where I saw it.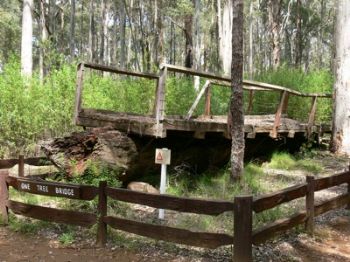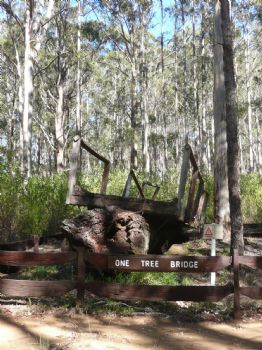 So, it is on this trek too.....such an incredible history behind all of this...we could spend years learning and still not know it all. Obviously, it is no longer in use, but was for many many years as a logging road and bridge. Can you imagine what it took to span the river by felling a huge tree....I don't thik those photos do it justice, for it really is huge. I daresay it is not the only time that trees have been used as a rudimentary bridge....just gotta be nimble footed until they build something more permanent on it or to replace it.
There was a lot of fun discussion over tucker that night. We are all very curious about why so many places have 'up' on the end… Like Dwellingup, among others. It seems like almost every small town or village has the 'up' tacked at the end of it. But, apparently it originally came about because it was the name that the Nyoongar Aboriginal peoples gave each particular place. They were usually near water, so it could have meant places of water but since it was near the water, they also became important meeting places or perhaps they were named for other reasons. Just like Balingup was named for the great Aboriginal warrior, Balingan. Links….oh, yeah, I meant to include some links….now where did I put those links. Oh, yeah, here they are.
en.wikipedia.org/
wiki/-up
western-australia
.blogspot.com.au/2005/04/w
hats-up-with-wa-town-names.html
then there is 'Mullalyup' which means --"the place where the young men had their noses pierced". now that one cracked me up..yeah, yeah, still on the place names.....they fascinate me.
Sandra is fishing for trout using worms, and Gail said that she had used marshmallows before. We all had a good laugh over that, but turns out she really did. Trouble is, that means fewer marshmallows for the s'mores.
And still talking about the birds, especially the ringneck parrot we saw the other day:
www.youtube.com/w
atch?v=TzNxgGW2zkE
www.youtube.com/w
atch?v=GCdiP5noZ58
And just in case we had forgotten about the kookaburras…….as if we ever could…
www.youtube.com/w
atch?v=Qix6oUxim3Q,\
By this time I was almost asleep sitting up so I said goodnight and got into my sleeping bag.
DAY FOUR, WEEK FOUR:
Next morning: hot cocoa sounds good to me, Gail ...and I will have some of the oatmeal as well. It sounds really good this morning. Already rolled up my sleeping bags as well as yours and Bonbon's. What, you mean that Bonbon was in it.......Oh, NO!! *jumps to go rescue Bonbon....ohh, there she is ........
*wiping my forehead with a big sigh of relief* Come eat some oatmeal with us, Bonbon. it is really good.
And we are off……and walking …….and walking…….and walking….*grin* what can I say…..I've spun endless words of praise for the wildflowers, the trees and the birds, but I've said very little about the actual walking. Needless to say, we are getting a lot of it and we are all getting so toned. You will not know us when we get back. Ann keeps talking about a six week trek after this and being very mysterious. I cannot wait to go on it as well, though I am having such fun on this one, I do hate for it to end. Though we talk a lot on the trail, we also have plenty of time for silence and walking meditation, which to me is the best kind.
We have been discussing whether we are going to join Gail in climbing the Gloucester Tree when we get to Pemberton, but some are definitely not and others are still undecided. I probably will in the end, because after all, this is virtual and I can do lots of things that I never could in real life, but we shall see.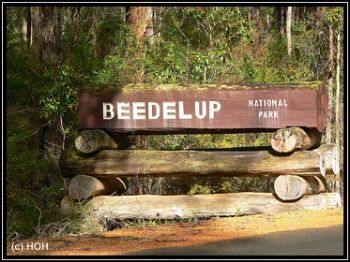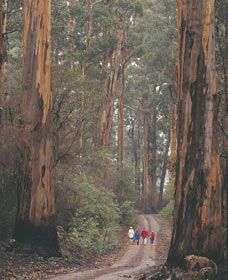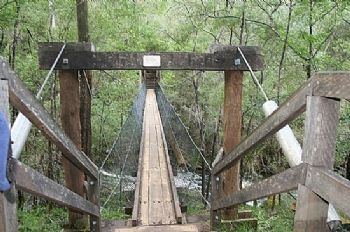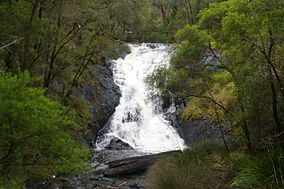 Today was the day that we saw the Beedleup Falls and the swinging suspension bridge. Wow. Talk about scary. *pictures of fall and the tree…and the bridge. Lots of adventure and close calls…..but also very exciting.
www.accesswa.com.
au/Pages/Images.aspx?Featu
reID=4341&ImageID=26868#content
When we saw the falls it was definitely much fuller than in those pics as you can see above. Once again, had to blindfold Bonbon, since she is so frightened of the swinging bridges, but that is okay, for at least she can get across it that way. What I have found interesting all along the way is how clean the dunnys are; as you can see from the pics above, not bad....okay it is not the Hilton but hey, we don't expect that out here.
We straggle into camp, one by one, as usual distracted by what we saw today. Tonight we stay in the Beedleup Camp Site. Ann was already there and had heated up the billy for coffee and had some stew on that she called 'dog stew'……..I was very curious to say the least……..well, okay, I was horrified to think that our Ann had actually fixed 'dog stew'…..turned out that there actually is a dish called dog stew……which is eaten in the Phillipines.
*peeking my head outside the tent flap* Ann, did I really, really hear you say 'dog stew'??? I need to hear more about it before I commit...it's just the idea of it, I guess.
Turned out that Ann's stew was very tasty…..lots of good veggies in it as well as roo and chicken. Needless to say I will jot down the recipe but seriously doubt being able to get any roo once I get back in the states.
well, thanks for the 'dog stew'........*grin* it really was very tasty......:0 but now I am off to bed ...I know we are headed to Pemberton tomorrow and I want to see Gail climb that tree.......hmmmmm, wonder if I should try it.....? *grin* well, I will see when I actually see it in person......then I will let you know.:)
night, all....:)