Friday, April 26, 2013
Ok, so maybe not an exact failure.....Finally made that Strawberry Rhubarb pie that I have been wanting to make. Cut out some of the sugar, made a whole wheat pie crust and everything was going well until I had to roll it out. My pie looks like a Frankenstein pie!!!!! It still looks good though, can't wait for later when its cooled down and I can eat a piece! Just wish I had some whipping or heavy cream so I could make some home made whipped cream to go with it.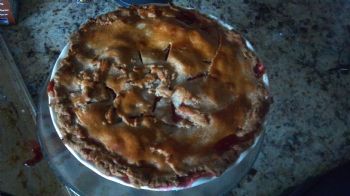 UPDATE: OMFG!!!! Why have I never had this kind of pie before!? It's AMAZING!!!! I think it just might be the best pie I have ever had, before pumpkin pie has always been my favorite but I think it just might have gotten knocked down to #2. The recipe I used called for a cup and half of sugar but I only used a cup. I think next time I make this I am just going to use a top crust and only use half a cup of sugar. The only thing I see the sugar is there for is to get the juices out of the rhubarb and strawberries.