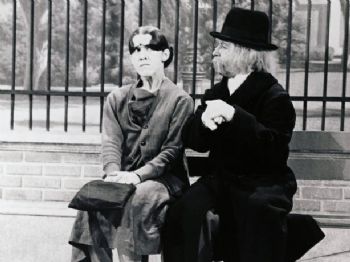 Somewhere along the lengthy plateau I was experiencing, I fell off and landed on my head. I could not deal with the thought of limiting my calories to the extent that my program was suggesting. I'd lost weight just by eating carefully and working out like a madwoman.
My gym took a nosedive. I believe the only maintenance the owner does is replace the paper towels. Every other machine has a problem. The elliptical steps have cracks. Two of the treadmills stop abruptly midstream. Everything is dirty. There are creepy men who stare. I have lapsed in my charged up daily applications there. And so, my sciatica has shown its ugly face, (or posterior, let's call a rose a rose). I'm walking like Artie Johnson's dirty old man character in the 60's Laugh In TV Show, for those old enough to remember. This was my husband's description. I'm expecting Ruth Buzzi to show up in her hairnet to hit me with her huge purse.
My husband is not pleased with my retreat into the "Old Sue". "Why aren't you singing any more?" I got tired of cleaning the kitchen up every night to fall into bed at 9:30. I felt emotionally fried. I was tired of spending so much time preparing food and snacks. I'm tired of cooking most of the day Sunday so I can go to the gym 5 times a week. I don't mean to complain, I'm just being descriptive. Tired of ragged cuticles, throwing on any old thing to go to work in, not taking time to wear makeup, brush my hair, or clean my house. Or take time to go have some fun.
I found a program through my health insurance that has reduced price gym membership at multiple gyms. I signed up a couple of weeks ago and just today went to gym Target Number One: Snap Fitness, which is very close to home. I am now signed up through the Healthways Prime Gym Program to use this facility. The machines are clean. There is no dirt wedged into the bottom of the ellipticals. The treadmill belts don't curl up on the edges. The floor is CLEAN.
My old gym had classes, but they were in a shoebox-sized room. The instructor had a grating Long Island by way of Brooklyn accent, and she went on at length about her personal life before and after the class started. Namaste, bimbo. Plus, my back went out in the middle of a Downward Dog, and I disturbed her class with my out of shapeness. That was a while ago. I never tried another class there.
You can use any or all of the gyms participating in this program, and there is a second gym I like. It has a large, sunny, exercise room and also has sparkly clean gym machines. It is between work and home. Next week I'm going to sign up. They have yoga at 4 pm twice a week, and that's perfect for me.
The very young male attendant at Snap Fitness was a lot more professional than my former gym owner, who got angry with me for telling him his Leg Press machine was broken. He insisted that it worked "partially", when the belt had slipped off the roller. Anyway, the new gym attendant, when I said I had a plan through my insurance, asked me if it was Silver Sneakers. Isn't that for people much older than me? I'm in my mid-fifties. Maybe not. Oh, well. What are ya gonna do?!
I took a couple of days off, ostensibly to clean my filthy, cluttered house. And work on office filing, such as it exists, in its neglected status. Instead, I spent a couple of hours folding laundry that had accumulated, and I made a nice dinner last night. Today, I stopped at Snap Fitness and then I food shopped. I took a little cat nap with my cat on the sofa. Sometimes, just trying to tend to my frazzled nerves can be an almost full time job. Better days are coming, and we learn from every misstep. Right?