Headbands
Friday, April 26, 2013
Back in September I chopped my hair off into a bob. Great - until I try to work out and there is no good way to keep my hair back. This is the ONE time I miss the old hair and a quick messy bun. LOL So, here I am currently - this was a few weeks ago before a night out.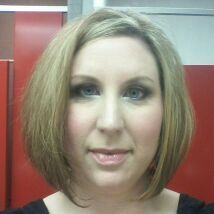 My hair is JUST long enough now that I can get it into a teensy tiny ponytail in the back, but there are a ton of pieces that aren't long enough and fall out. So very recently I received my first Birchbox and inside was a Twistband headband. These things are AWESOME! They actually stay in my hair, but aren't tight (with me and my stupid headaches/migraines, headbands adding to the headache issue is always a problem I'm on alert for) and they don't put a crease in your hair. LOVE it! I'm not sure where to find them in stores but I just ordered 6 more online so that I have enough on hand for working out, plus I think they will be cute and comfy for the summer. I'm not sure how well the ponytail ties would work for me (I haven't tried those), but they have those too. And they come in such pretty colors! Just had to pass on the info for those of you who wear headbands to keep your hair back while working out, or just like cute headbands in general! Here's the link to the company's website:
www.thetwistband.com/hea
dband.html?cat=20
TGIF!!