Some Soul Searching!
Friday, April 26, 2013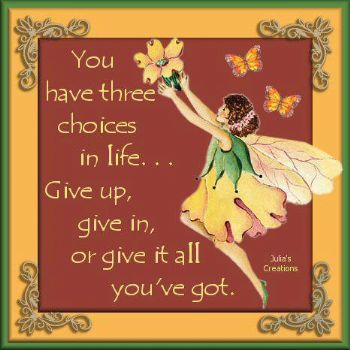 Well I have decided to stop all this fretting and negative thinking about what I can't do, instead I will concentrate on what I can do! Negativity can really pull you down, you either sink or swim, and I decided to swim, I will over-come the many challenges I have and find a way to work around them. I suddenly realized that these things are not going to change, so it is up to me to change my mind set, I'm not able to do some things, but there are others I can! There I feel better already! My biggest objective was to get healthier, and I am accomplishing that, the scale isn't the whole picture ( Thanks Jane for reminding me) So no more moaning and groaning, just find something that works for my body!