My stomach and digestive tract is a little off today so I thought a nice green tea with a bit of mint would be a nice mellow morning start. I grab my "Natural Antioxidant Green Tea" hoping that maybether is a hint of mint in it. I didn't think there was because I'm not a huge fan of mint but it does soothe my stomach.
So I grab the tea box and look for mint in the ingredient's and then I'm frustrated – STEVIA – WHAT, WHY, ARE YOU KIDDING ME??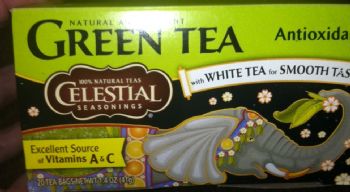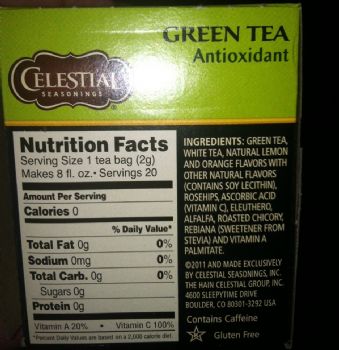 I'm reducing processed foods.
I DON'T drink soda and never really every drank soda on a regular basis.
I NEVER have snacks in my house that are not fruit or another natural snack OR homemade so I know what is in it
I avoid "diet" foods because of the unnatural ingredients they are notorious for
I add suger to NOTHING and never have – not my tea, not my coffee, not my cereal, not my oatmeal, not my food when I'm cooking.
I have NEVER used any artificial sweetners --- NONE.
WHY do they, the food producers feel the need to f*ck with our food. (please excuse my language but I'm just steaming mad)
The tea doesn't taste sweet. It tastes like normal regular unsweetened tea. Now I don't want this product and will not use it and WILL READ ALL flipping labels. Even the labels you don't think you should have to read. AND I will be messaging the company and maybe even referencing or copying this lovely little blog.
There's my rant and I'm sticking to it!
Happy flipping sneaky stevia day!
Remember you can do anything you set your mind to AND REMEMBER TO READ THOSE LABELS!
Commit to it. One tiny step at a time to live healthier physically and mentally!!
*♥´¨)
¸ .• ♥ ´¸.•*♥´¨)
(¸.•♥´ (¸ ;.•♥ Kelly ♥•¸ .


Sweet Success!! Goals & Planning are everything to reach your dream!
Don't be a gingerbread woman, be a ROCKSTAR!
www.sparkpeople.com/mypa
ge_public_journal_individu
al.asp?blog_id=4670776
I'm that person…Apologizing right up front!
www.sparkpeople.com/mypa
ge_public_journal_individu
al.asp?blog_id=5126935