Or not.
Nutrition goals all met, and stayed in calories. Woohoo.
Drank all my water. Woohoo.
My planned activity for my rest day was a ballroom dance lesson, but my instructor had to cancel at the last minute. Since I only had dance shoes with me, I wasn't able to go to the gym instead. So, I decided to hula hoop for 15 minutes instead. :-)
After I got home, I made the YUMMY granola recipe -- it's awesome. Sorry forgot to take photos of it. Thanks JOANNKW for the recipe -- looking forward to adding it into my breakfast lineup.
Also decided to make my terrariums. Wow, okay, I might be addicted to terrariums now. See photos. I decided to make three (see? my simple little project grew totally out of control).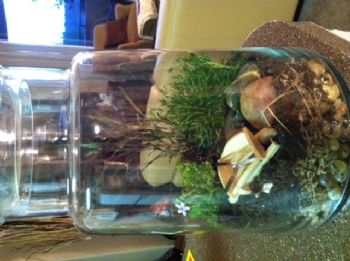 This one is supposed to be a secret garden spot. :-)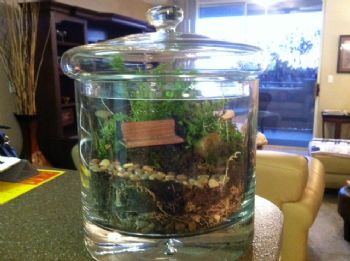 Although it doesn't photograph all that great, so here's one from the top too.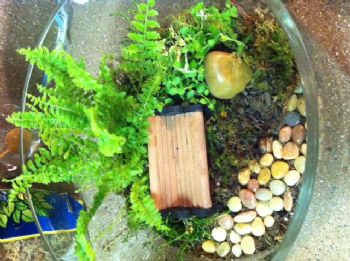 This one is also my favorite - although it's an open top, so I'm not sure how well it will do here in NM, where the humidity is just about 0 it seems. I hope it survives for a little while at least.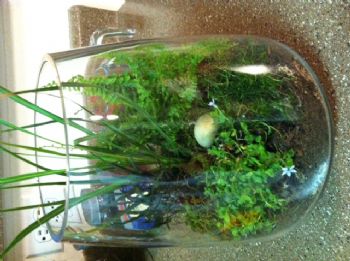 This was TOTALLY FUN and now I want to make more -- but I'm going to stop now mainly because I really don't have that much space in this apartment (gee, I miss living in a nice big house -- but it's temporary....)
Let's see what else. OH. And Yo estudie mi tarea espanol esta noche tambien. Too bad I don't know how to put the little accent marks where they are supposed to be.
Okay tomorrow is my next running day, and the sequence gets kicked up a notch. Woohoo. Looking forward to it. And now I'm looking forward to granola breakfast in the morning too!
OH, and this is the coolest thing ever, I hope. I bought this stuff called Sports Suds for washing your fitness clothes to get the "ickyness" out of them. Seriously, I've tried all sorts of different things, but the smellies seem to hide out until you actually put on the clothing and get slightly warm, and then it's as if they've multiplied and partied all night or something. So this stuff is touted (on amazon.com at least) to be super awesome. I'm washing two loads now -- so I'll let you know tomorrow what the verdict is. But I'm hopeful!
Have a fun night Sparks!