It's Whole 30, Day 18 and today the spotlight is on: Butternut Squash
It's butternut squash time! This pale orange, pear-shaped fruit is the darling of paleo lifestyle afficionados. It's a very convenient alternative to potatoes and has a much milder flavour than other pumpkins. It's also a lot easier to peel, which is a big plus in my book. Although it's a winter squash, it often makes an appearance at farmers' markets and green grocers in the autumn and it's often still available well into the later part of spring.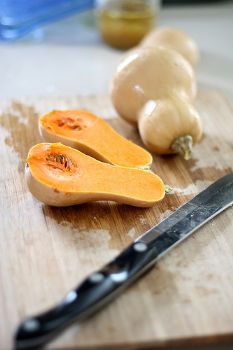 One of my favourite go-to soups is a Thai inspired butternut squash recipe. I've already shared this on Spark Recipes so check it out if you're interested. It's hard to beat a roasted butternut squash, stuffed or simple, and it's the easiest veg in the world to mash. If it wasn't for Mark Sisson, I might never have thought of eating this one raw. So, in honour of lateral thinking, today I bring you..
Courtesy of the one and only Mark Sisson at www.marksdailyapple.com...
Raw Butternut Squash Slaw
............................
................
•3 cups grated butternut squash (about 1/2 of a peeled and seeded butternut squash) (350 to 400 g)
•3 cups shredded cabbage (200 to 250 g)
•3 green onions, chopped
•1/4 cup finely chopped cilantro or parsley (60 ml)
•1 to 2 jalapenos (or other hot pepper) seeded & finely chopped
•2 tablespoons unseasoned rice vinegar (30 ml)
•1 shallot, finely chopped
•1/4 teaspoon salt (1 ml)
•1 teaspoon tamari (5 ml)
•1 teaspoon toasted sesame oil (5 ml)
•1/2 cup neutral flavored oil (such as cold-pressed, high-oleic/high-stearic sunflower oil) (125 ml)
Instructions:
Peel the butternut squash, take out the seeds and cut the squash into chunks. Grate the squash – a food processor is by far the easiest way to accomplish this.
Combine the grated squash, cabbage, green onions, cilantro and hot pepper in a large bowl.
In a small bowl, whisk together vinegar, shallot, salt, tamari, and both of the oils.
Pour the dressing over the slaw. Mix well before serving.
Previous posts in this series:
Whole 30, Day 1: Leeks
Whole 30, Day 2: Peppers
Whole 30, Day 3: Celeriac
Whole 30, Day 4: Turnips
Whole 30, Day 5: Spinach
Whole 30, Day 6: Aubergine/Eggplant
Whole 30, Day 7: Broccoli
Whole 30, Day 8: Mushrooms
Whole 30, Day 9: Cabbage
Whole 30, Day 10: Carrots
Whole 30, Day 11: Fennel
Whole 30, Day 12: Sweet Potatoes
Whole 30, Day 13: Chicory
Whole 30, Day 14: Asparagus
Whole 30, Day 15: Cauliflower
Whole 30, Day 16: Courgette/Zucchini
Whole 30, Day 17: Kale