April 25th, 2013 - Yes so I maybe a little crazy...and your point is?
Thursday, April 25, 2013
This week so far has only gone right on Monday! That was the day that I got to the gym and ate right and then it all went down hill. Tuesday I stayed home because I took my daughter to a doctor's appointment. No gym time that day, ate bad and only got in my squats. Yesterday was a business luncheon at a german place....so again no gym and ate badly. The grand plan was to work out when I got home....SO did not happen. Instead I ate even worse!
I was sitting there trying to figure out WHY am I making such horrible choices, why is it I can eat and then 5 min later feel like I'm starving. Then I looked at my "TOM tracker" and sure enough it smacks me in the face that my little friend will be here in a few days. Of course that is when I glare at my husband and tell him how much I hate being a woman!
I started my AB challenge last night. That is the reason for the title of my blog, because there are times that I start things and my husband will give me this smile and shake his head. I always feel like that is him holding back from telling me how crazy I am.....(although he did say the other day that I needed to stop answering myself when I talk out loud. LOL) So now I am doing the Squats challenge and the AB challenge.
The squats have been great and today is 100...so far I've gotten in 25 and plan on getting the rest of them in when I go to the gym at lunchtime. The first day of the AB challenge was good. I think that is the first time in a LONG time that I have done a full sit-up. Normally it's crunches and russian twists. It was very nice to break away and do some basic moves. Tonight will be 19 situps, this one only advances by 4, but I think I might just go up to 5 additional as that will be easier for me to keep track of....should be interesting and I might have to change it up a little bit more. It is keeping me accountable and for that crazy or not I'm grateful!
So I have also decided that as of 5/1/13 I will be starting the P90X program. I'm still not sure how that will change my challenges that I have started. I can get most of it done during the day at the work gym....just don't want to have started something and not finish it.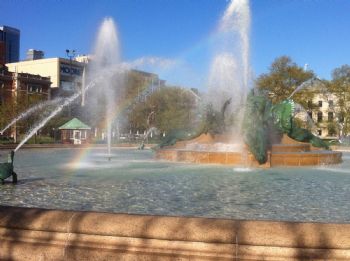 Captured this on my walk into work today. I always see a rainbow when I pass it and today was the first time I actually got it on film.