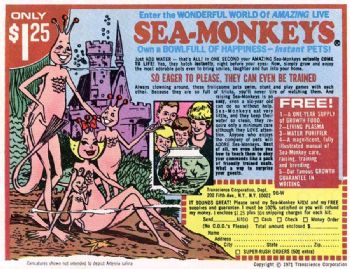 Man, I remember the first time I saw that ad and I wanted those sea monkeys SO BAD I could feel it in every cell of my body.
Even as a gullible tyke I didn't expect them to build a castle in a fish bowl (I had experience with ant farms and they didn't have actual farms with tractors and such so I was wise to that game) but I did expect them to dance to music and have adorable families like the one pictured (except the mom wouldn't have that bow, well unless I made it for her and dropped it into the bowl).
My mother wouldn't splurge for the sea monkeys so it wasn't until I was much older (college age) that I finally got some. Again, I knew they wouldn't be as pictured in the ad but they were even more boring than I had expected. And, thanks to my lack of care (or perhaps they were just duds) I never saw a damn thing living in that tank (though the tank was cute).
Fast forward to even later in my life (college was many moons ago, y'all) and at long last I have the sea monkey of my dreams. And wouldn't you know it, I had to make it myself.
And, and, and, did you know that May 16 is Sea Monkey Day?
Well, of course you do now. But don't feel bad, I didn't realize it either until I was looking up unique holidays for May (for the swap this sea monkey is for) and saw it on the list. Of course, I knew right then and there it was my May holiday.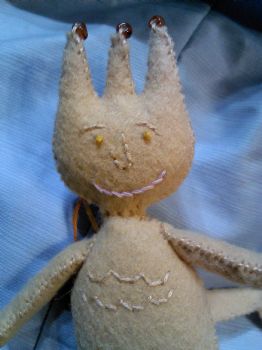 So happy!!
This happy chappy will be off to his new home on Friday. I really hope my swap partner likes him as much as I do.
What else have I been up to creatively speaking?
The Giant Squid (second one) is just about done and will be on display this weekend at Art All Night. WOOT!!
I'm also working on a Dorothy doll (for a Wizard of Oz swap) and a gnome plushie (for another swap). Stitch, stitch, stitch.