The one thing about not weighing in is that it's difficult to know exactly if you're doing enough to make a difference. It takes a long time to feel thinner, especially when you've had a larger body image for many years. I was thinking the other day that I don't feel thinner. And yet, I have to admit my jeans seem to be a little looser since I started changing my eating habits.
I still haven't gotten on a scale, but this morning I decided to take my measurements. I was astounded! I only take 3 measurements: midriff, waist, and lower abdomen. That's my biggest problem area and the one that is the most detrimental health-wise.
In just 3 weeks of abstaining from sugar, carbs, and all processed food, I have lost:
1.5" in midriff
2" in waist
1" in lower ab
I took the measurement 3 times to be sure because I found it hard to believe. BUT, the tape measure doesn't lie! Some of it might be the loss of water bloat, but that's a positive too. I'm satisfied and won't take my measurements again until 6/5 when I have my 1st consultant appointment with the pharmacist. I'll weigh myself for the first time that day too.
I'm pleased because my eating plan is not difficult for me. The other thing to note is that these results are without much exercise at all. I have gone to Zumba once a week for the past 3 weeks and haven't been doing any other exercise until this week. I do plan to beef up my exercise because I believe it is key to carving out inches. I just started walking about 2 miles/day as of last Monday. I plan to get into a daily habit of walking and build up to 5 miles/day. That will not be hard because the warmer weather is on the way and I love to walk outdoors in spring-summer-fall. I also want to start doing my T-Tapp toning again. That workout not only reduces inches quickly and builds core strength, but according to Teresa Tapp it also reduces inflammation, detoxifies, balances hormones, reduces blood pressure and blood sugar, increases mental clarity, and reduces stress and depression. That sure is worth 50 minutes of my time and effort a few times a week.
This is the picture I look at every day for inspiration in reducing my belly fat: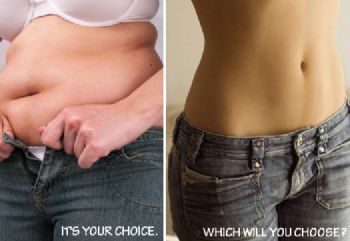 I know this is possible for me. It may take a year or more of consistency, but it is all up to me.