I did a body assessment test at the gym Thursday, April 18, 2013
My test results were SHOCKING.
Nov 6, 2012 - Weight was 160.9 and bodyfat was 24.7%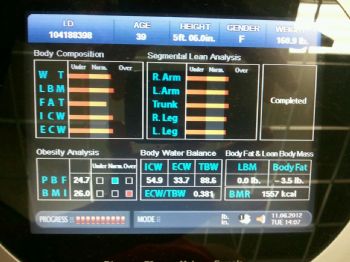 Apr 18, 2013 - Weight was 150.6 and bodyfat was 20.1%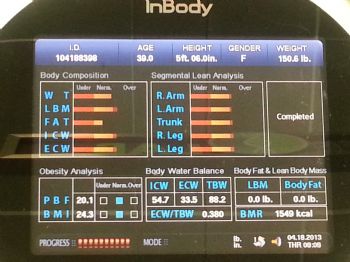 InBody measures:
- Weight (WT) - which is normal
- Skeletal muscle mass - Body Fat & Lean Body Mass - Notice the difference from the first test to the second. In the Nov test, it said that I need to lose 3.5lbs of body fat of which I lost 4.6lbs of body fat.
- Body fat mass and overall body fat percentage - Obesity Analysis
- Water balance (identifies dehydration and swelling) - I need to drop this number to 0.36 or under. Trainer said to increase my Omega-3 intake
- Muscle development in arms, trunk, and legs - segmental lean analysis which all is above normal for mass which is a great thing.
I was shocked. When I was looking at the whole assessment, I was focusing on the wrong number so I thought my bodyfat was 24.3% but that was BMI

. I told my trainer that there was no way that my bodyfat was 20%. I mean that I hit my bodyfat

BEFORE I hit my goal weight

. He basically told me that all of my numbers are in the perfect range and that I just need to maintain. My water balance should be at 0.36 so I'm really close. Your water balance are the waters in your cell so the trainer told me to up my Omega-3 intake to 2000mg a day. So now I have to take 4 capsules instead of 2.
So I'm rethinking my plan. Originally my goal weight was 150lbs which is what I've been basically maintaining for 8 weeks now. I changed it to 145lbs to give me wiggle room as I never want to weigh over 150lbs. I have a lot of thinking to do. My trainer told me that my calorie goal should be 1500 on non workout days and on days I workout about 1800. Sound familiar. I said I was going to that months ago and I've gotten away from it. I've tried to stick to it but I've found myself usually topping off around 2000 on workout days. Ugh.
Just because I am declaring myself at goal doesn't mean that I'm giving up on reaching 145lbs. I'm still going for it. It's just that I want to shift my focus to other things. I've been trying for 2 months now to reach 145lbs and coming close just to gain 2-3lbs and than have it slowly trickle off. I need to focus on refining my eating habits. I'm working out like a fiend yet that isn't showing up on the scale because I'm eating back my workout. I'm sure that only when I finally clean up my diet and bad habits that are holding me back, that I will see that magic number on the scale or maybe even lower. It would be great to be 139lbs as I haven't seem that number probably since grade school.
At some point in the near future, I'm going to sit down with my personal trainer and come up with new goals. I know that I want to run 5ks in the summer and eventually run a 10k in the fall. I know that I'm making progress in that arena already. When I run on the treadmill, I used to set my goal for 3.1 miles (5k). Then I upped it to 4 miles and now I'm running for 5 miles and finishing in less than 55 minutes. So that is about a little under 11 minutes a mile. I can't believe that I'm running for almost 1 hour straight and 1 year ago I could barely run at all due to my aching knees.
I'm so proud of myself. Big pat on the back

. I've worked really hard and have overcome a lot of setbacks and have still pressed toward the finish line. But as we used to say at Weight Watchers meetings, that we are all just 1 M&M away from gaining all of the weight back

. I know that I still have my demons

to contend with and my trigger foods but when I fall off the wagon, I'm going to pick myself up and wipe the dust off and get back in the wagon and move on

. I didn't spend all of this effort and money and emotional investment just to flush it all down the toilet.
This is a healthy lifestyle that I intend to keep for a lifetime. Yes there will be ups and downs in life and on the scale and I will be able to handle them. As long as I stay in the race, I will win. Now I just need a really good after photo.