Cool Public Service Online/SMS Text Alert Tool
Tuesday, April 23, 2013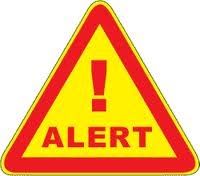 So, we've been getting water main breaks in this neighborhood a lot more than other neighborhoods I've lived in so I looked to see if there was an alert system online so maybe I could get some water out of the faucet before it's totally shut off for repairs and hopefully go to the bathroom before it's off, too.
Turns out my city water department does have such a service. They use a site called nixl.com which is free to public services and signing up for alerts is free to citizens, too. I did some exploring on the site and found that they also have alerts from police departments and other public works departments in other states.
You can have the alerts sent to your email, as text messages to your cell phone or both. Once you have an account online you can also set it up to get alerts from different locations. So if you live in one state and work in another you can have both your work address and home. If you're worried about your kid in college in another state you can have that as a location, as well, etc., etc.
To start on the text service just text your zip code to this number: 888777
Personally, I have to pay for every text I use or that I open so I use the email service instead.
You may already be able to receive alerts from these organizations through Facebook, I don't know. I just know that I loathe Facebook and have absolutely no intention of returning so it's nice to have alternatives like this.
Just thought I'd share.