Hi hi! It feels like it's been absolutely EONS since I've been on Spark, although it's only five weeks. ("Only".) I've missed my SparkPeeps, but just haven't been feeling very motivated. Also, Max had his appendix blow up on him 4 weeks ago, which put a serious dent in my schedule. In fact, he had his appendix out on my birthday! Sadly the docs didn't let him keep it, so he could wrap it for me. Har har har. Just what I wanted.
So he was in the hospital for three and a half days, and life was pretty topsy-turvy. Then he came home, and couldn't really do anything, so it was all on me. It was a challenging first week or two. He had three and a half weeks off work, and went back a week ago today. We're only now sliding back into our usual chore-split, which is a relief to me. So yeah, I've been busy.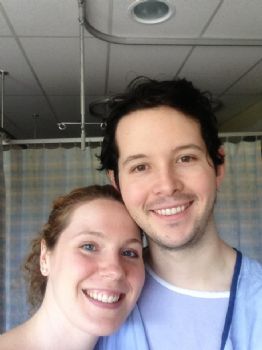 The first few days I hardly ate, then there was a lot of comfort food after he came home, especially until his digestion really got back to normal. Kraft dinner you say? Indeed. In fact, we went through a FEW boxes of KD in the last month. My favourite was this one, in which the leftovers were employed as such: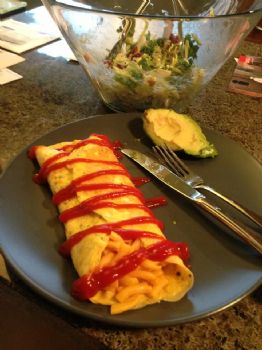 Yes. That's what you think it is. A KD omelette. And it was DELICIOUS. Don't worry, that's kale salad in the background. And really - as long as a box of KD lasts two meals, it's not so bad, right? When was the last time you actually had LEFTOVER KD? Typically it doesn't last. Too easy to slurp right back, with two of us eating. Mmm.
(Only-slightly-ADD interjection: Dear Grace, I'm eating cottage cheese as I type this.)
Which brings me to where I am. Cottage cheese. And eating better. And doing more exercise. I was training for the Vancouver Sun Run, which was yesterday, but when I lost my usual training buddy (thanks, appendix), my training frequency dwindled. I still managed to run most of the 10k, and finished in 1:15, which is decent for half-assed training and broken feet. I'm quite happy. All I wanted was to finish without re-breaking my feet, and so far, so good. Sore hips, a bit of a sore knee during, but no unusual foot pain. Yippee! Here's me and my best friend in the starting queue. (I lost her within about 10 seconds of crossing the start line.) Ignore the girls behind us. There were over 47,000 runners - tough to get a shot without people in the background!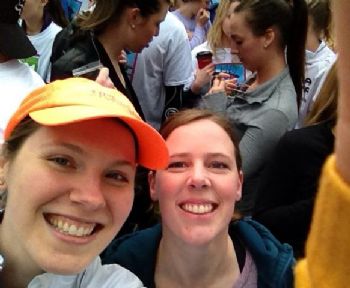 I did go for a few training runs... here's my lunchtime run scenery, to make you rest-of-Canada folks jealous: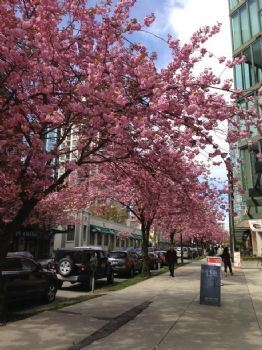 And yes, it rains a lot here, but it's still beautiful: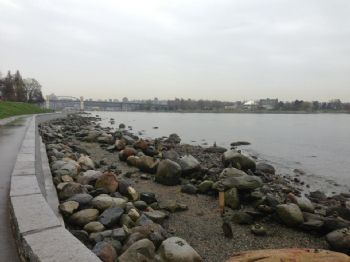 That's False Creek and the Burrard Street Bridge, from the Sea Wall, about 10 minutes from my office. Not too shabby. I should really run more often. I'm trying to get there.
In fact that was what I'd been planning to talk about before I got distracted with all those photos. I want to get into more exercising again. I've been feeling so listless, so un-energetic, so unmotivated. I don't know if it was just a cycle of non-exercising, or if I'm having wacky things going on with my thyroid (possible, it was subclinical last time it was checked) or my
iron levels (near-anemic in my spring bloodwork)... my naturopathic dr girlfriend was highly surprised I wasn't feeling draggy and lethargic when she saw those results, which perhaps just gave me permission to acknowledge the feeling...? Regardless. It's time to pick myself back up again. I seem to be able to do that. So let's do it again. It's time for me to plan out the next chunk of time on that big giant awesome workout calendar.
Especially if Grace is going back to the gym. I wish there was a convenient gym near me. Or that I got home at a decent enough hour that I could go before dinner. Or worked late enough that I could go before work. Stupid commute. But the commute is the trade-off for the house. Which I love. So... there we go. It is, fortunately, also a source of exercise... and here's another reason my running fell a bit to the wayside in the past few weeks: it's springtime! My yard needs work! And it's so satisfying to go out there and garden or rake or weed or rip things out that I'd rather do that than run, and I don't have the energy to do both. Seriously, perching on the super steep slope of our front garden, mountain-goat style, while ripping out vines and blackberry brambles, and trying not to throw myself off the hillside whenever the vines give way... it makes my legs totally quivery and exhausted after! Such a balancing workout! And check out my new baby: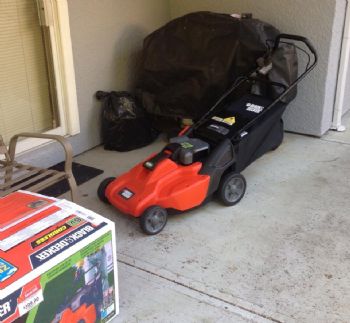 Yeah that's right. It's battery powered. No gas, no cord! LOVE it! I've only used it once, but I'll try to use it again later this week or this weekend. I didn't cut the grass very short last time, since it was the first time it had been cut this year. I've been doing a lot of yardwork! Particularly with no help from my husband!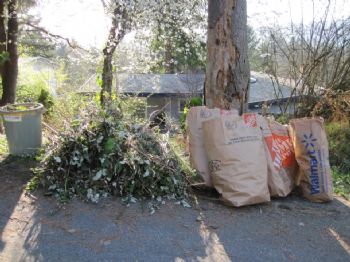 Anyway. I should wrap up and get to bed, it's ten o'clock. I just wanted to say hello, say that I've missed you all and although it will take me a while to get back into the swing of things, I am going to get back into that groove. The plus side (I ALWAYS type "plus size"! HA!) is that I haven't gained any weight while I've been away from Spark. That's good. The downside is that I haven't lost any, either, and may have lost some muscle mass. Maybe. Tough to say if yardwork plus occasional runs and yoga is enough. I certainly haven't been lifting weights. And I should. And I should dance. Grace posted something on facebook about going back to Zumba, and it made me consider rejoining the gym near my office. It's hella expensive, and probably not worth it, but now that I'm running less, and my after-work workout window is being squished by commuting... that lunch-hour workout is looking mighty appealing again. Worth exploring.
Anyway.
HI! Love to my chickens! xo