Well, here it is April 22, 2013.
OK....So it's April 22, 2013, Lyn....so what?
Well.........I'm still alive.

I'm still active.

I have no arthritis.

I have no apparent health problems.

Oh, unless you count the occasional memory lapse.

Here I am....a woman born in 1938....ya' know, that's such a long time ago when I think about it....that's even before the second world war! Oh, my goodness, how the world has changed.
And now that you mention it Lyn...so have you. And for the better I think.
I've learned how to listen to others....to look them in the eyes....and really listen, to hear their concerns.
I have learned to not talk so much. Other people need to share, to unload, so I really prefer to hear their stories, and not the sound of my own voice babbling on.
I have found that I truly love to comfort others that are hurting. Even if they are just minor hurts...it doesn't matter, because THEY matter.
I have also found a lot of other people here on SP who are the same. They love to comfort others, to encourage, to build people up when they are down, sad, depressed or hurting. What wonderful examples for me to learn from.
Thank you Spark People....all you beautiful Spark People....

So, on this SP journey that I restarted on Jan 1, 2013....here I am, on the brink of my first ever goal line.....ever!!! I have 4 more pounds to lose in order to pat myself on the back.
I realized today, that when I get to a point like this, I seem to sabotage myself. Perhaps from lack of confidence that I won't make it...and of course sabotaging myself means that I won't. And that just re-enforces my negative thoughts that I never can.
And around we go again.
BUT NOT THIS TIME!!!
I titled my Sparkpage "Yes, I can."
And I will.
I am telling myself I will this time. I have to....I don't have much time left to keep on trying and keep on sabotaging myself.
I am posting these pictures because they help to reinforce my confidence. Hey, Lyn...you really can do it. Three more weeks to go before I leave on my cruise. That's my goal timeline.
This was last August.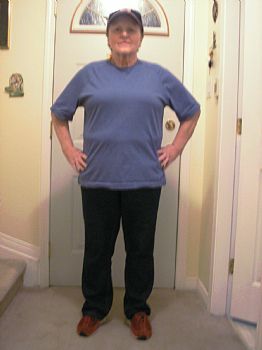 This was a couple months ago.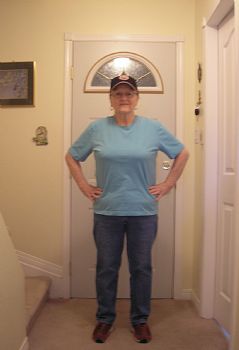 This is today.
Today is a good day.