Monday, April 22, 2013
Hello!
The Winter 5% Challenge has come to close and I just wanted to drop a quick line to say THANK YOU to my fellow Casual Travelers for teaching me that slow and steady wins the race. You are an amazing group of people and your determination is a great motivator even for someone kind of exercise crazy like me. At first, I didn't understand the concept of "not competing" at all. I was like that meme with the newer Star Trek captain that always starts with, "How the hell??...." Here, I made this-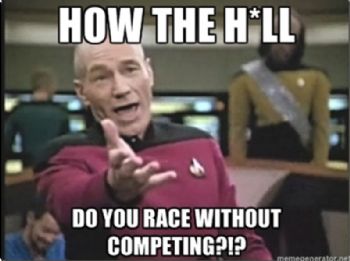 Silly me. I now understand that a team can work on many levels and a team that is not physically capable of competing with able-bodied teams is a team just the same. And we did great things, together, because we each contributed what we could and we pushed each other and encouraged each other and were there for each other. After the first week, I got over agonizing which team landed first. I even stopped checking! Who cares? And I found that my motivation to do well was just as prevalent as when I was on that hard-core Teddy Bear team. I did just as well (and had the same number of bad days/set backs). I ended up losing 6 pounds, shy of my 7.5 goal but I'm happy with it. Thanks to all my fellow Casuals for the inspiration and education. See you guys in the Spring 5%.