In four days, Jason and I will be on our way to Puerto Rico for the start of our cruise! It's been thirteen months since last year's cruise, and honestly, while I know I've lost some weight and inches since then, it's been so slow-going that it's hard to really see sometimes. Then this weekend, I came across a picture from last year's cruise, and it struck me that my forearm was much bigger in that picture than it is now.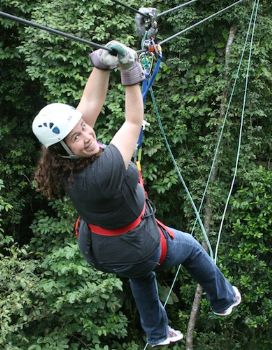 Now, I don't measure my forearm at all, so I have no idea really if I've lost inches there, but it SEEMS bigger in this picture, and so I decided to take a look at the difference in my measurements over the last 13 months. The comparison really surprised me.
Weight: -28 lbs
Pants Size: -2 sizes (16 to 12)
Inches: -17 inches total, from my neck (-0.75), upper arm (-1.25), bust (-3.5), waist (-3.75), abdomen (-3), hips (-3), thigh (-1), and calf (-0.75).
So it's not a HUGE amount, compared to what other people lose in 13 months, but I'm pretty pleased over all with those numbers. Especially as these last few inches in all those places seem to have made a huge difference in the way my clothes fit. Take, for instance, the formal gown I got for my 2012 cruise, a size 16 that fit perfectly as I'd just crossed the line from obese to overweight. This year, I tried it on, and with some alterations (yay for husbands who can sew!), we made it into a size 12 dress that fits me now that I've crossed from overweight to a healthy BMI. Here is last year versus this year, side by side: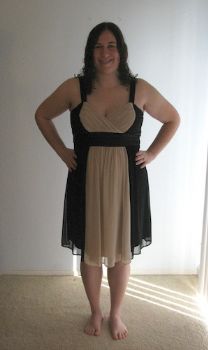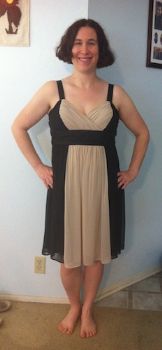 I love that we shortened the straps by almost two inches, and yet the dress is actually longer on me!
Then there's the sundress I wore one of the cruise days last year. I thought this one would still fit, and planned to wear it, but when I tried it on this weekend, it was practically falling off me. In this particular brand, I currently fit a size medium, and this dress is an extra-large. So, um, no. Unfortunately, there's no altering this one: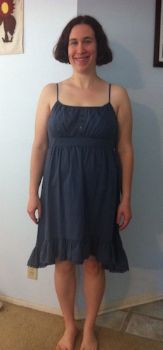 From these pictures, it just seems like I've lost more inches than I named above, but I haven't. I mean seriously? Less than an inch from my calves and yet they look that much smaller?? Crazy. My body must have changed shape or something...
Anyway, we had to go out last minute and replace this dress with another one (or, I admit, it was just fun to do this instead of making due with something else already in my closet, haha!). I found a great dress that can be either formal or casual, and it came with a BRIGHT YELLOW JACKET, which, if you know me, you know is a very usual choice given that I rarely wear yellow OR bright colors. But...it was fun! And I figured what the heck? So here's that dress (though the only picture I got actually wearing the jacket, I was moving, so sorry about that...)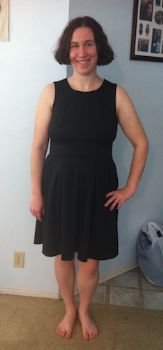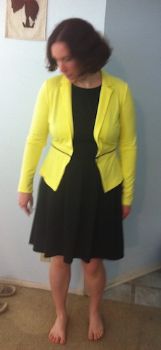 I am trying to see the positive here; trying to acknowledge that even though the last year has been rough, my body HAS changed. I want to thank everyone who commented on my last blog, about body image, which is something I'm still struggling with. Since I wrote it, I've thought a lot and realized that most of my issues come down to my battle with my stomach. It's the last place I lose weight/size, so that it bulges and looks horrible when I'm sitting down, plus it got all stretched/destroyed/folded over by pregnancies. It drives me crazy, because before pregnancy, my stomach was my very favorite part of my body. I loved my abs. Grr. I know that they will never be what they once were, and so I'm trying to focus on more positive things: good legs, fun hair, muscular shoulders, straight white teeth (despite never whitening them or wearing braces), no loose skin because I lost weight so slowly, etc. I know this will take some time - my brain automatically focuses on my belly, zones into it in every photo - but I'm trying very hard to retrain my thoughts.
And on that note, I wanted to share a picture Jason took of me in that same formal dress above. He asked me to strike this pose, and I was literally rolling my eyes here because I thought it was going to look stupid. Then I ended up really liking it.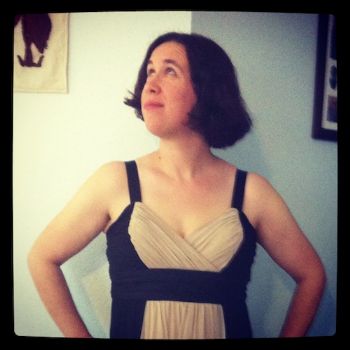 I look...far better than I ever would have expected. Once the filter was on the photo - making it look like I'm wearing make-up, which I never wear - I love it even more. I don't look like myself at all. It almost looks like a modeling photo. This is the kind of thing I'm trying to embrace: seeing myself with new eyes, and hoping to accept myself better that way. Baby steps, right?
I'm not sure if I'll have time to blog again before we leave in the wee hours of Friday morning, so I'll go ahead and say bon voyage now! Thank you again, to all of you who have been so supportive. :)