Sunday, April 21, 2013
This one picture did not seem to fit any of the Challenge blogs but is so precious I just had to share [can you help me find the artist of this one?]...as this young lady performs and takes her final bow to her teddy bears, I just have to give one more thank you to the teddy bears and to others that came and enjoyed my blogs and encouraged my efforts in the last 8 weeks of learning, working and succeeding in so many ways. Thank you, thank you, thank you from the bottom of my heart.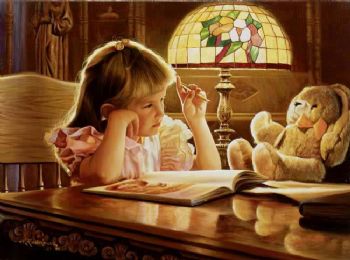 I started reading the "Boundaries" book and it describes a lady's schedule for a day...sounds very normal to me...hmmmm I think I am in for another steep learning curve!!! because then it begins to share where she may need boundaries in order to care for her health...mentally, physically and spiritually...I am off on another venture but i think I may keep my bear mascot for talking through and hugging when the lessons get hard...this painting by Alfredo Rodriguez seemed to fit me reading with my bear as well as begin to share some favorite artists and their work.