March 26 at dinner in Los Angeles, our son MIchael got a phone call. His best friend had had a cerebral hemorrhage and was not expected to recover. He came home with us on Good Friday and has been here for Mike's mom this entire time.
After three and a half weeks and all the experts telling Laurie that there was nothing they could do, he was moved from the hospital to a hospice care facility in nearby Columbia.There the pla was to set him back up on the machines which were sustaining the life of his body, clean him up, and get him stabilized for 48 hours then switch off the machines on Monday. I suppose that was to be certain that he wasn't passing from the stress of the move.
Last night Michael told us that it wasn't even certain that Mike would make it to Monday. His blood pressure was becoming more and more difficult to maintain.
At 6:00 this evening he came in and informed us that Mike had given up the struggle during the five o'clock hour. In a way that was good for his mom since she did not have to make that decision.
Eternal rest, grant unto him O Lord
and let perpetual light shine upon him.
May he rest in peace. Amen.
May his soul and the souls of all the faithful departed,
through the mercy of God, rest in peace.
Amen.
----------------------
This was posted on Michael's Facebook page: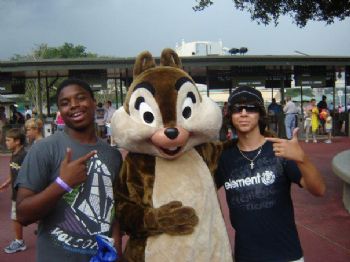 My Mike is on the left. Mike Trieber is on the Right. We took Mike Trieber on a Disney Cruise four years ago. Last I saw him he asked when we were going to do that again.
Michael wrote: "Mike Trieber i miss you so much man...as much as i used to post status' i haven't posted one involving you... remembering going to disney world and the cruise with Jessica B. Alexis F. Kayla J. Justus G. and more. we have memories that will never be forgotten. although I'm sad that we can not make future memories i would not change the ones i already have with you. It hasn't hit me yet...but i know it will...and when it does..i will ONLY concentrate on the positive you have instilled in my heart. You will never be forgotton. i will never in my entire life lose touch with your mom. Miss Laurie has been such an amazing person in my life..from her knowing how much i love apple juice and keeping your house in catonsville and the house in Ocean City stocked with it.. to always being able to tell when something is wrong with me and taking action on it.. always caring about everyone and loving everyone she possibly can.. You were my bestfriend for so many years...the person who i could chill with all day every day and we did.. i love you so much man. we all do and always will.. i will never be the same without you..but i will move forward with you in my mind and heart..you will be my motivation to move forward and succeed in everything i do. Mikey Fiato is sitting here right now giving me this look that i need to stop typing...trust me...if i didn't... decide to stop now... this post would be 25,000 words...
i love you man.. ♥"
-----------------------
Laurie posted this response:
"Sweetie--what can I say? I love you for loving Mike and all of us. You have been a very big part of our families life and I am so glad that you and Mike have that memory to share. That is your memory with Mike. That is what I love so much. Each person has their own personal memories with Mike that they can cherish. Your words were so touching and mean so much. Just wish, from the core of my heart, that Mike could see all of the love. You know how important you are to me and my family. I'm so happy you feel the same about us!! Love you!! BTW I absolutely LOVE this picture of you two. I need to get a copy of it from you. Mike looks so handsome!! (You do too!)"