Sunday, April 21, 2013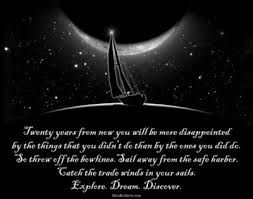 "Twenty years from now you will be more disappointed by the things that you didnít do than by the ones you did do. So throw off the bowlines. Sail away from the safe harbor. Catch the trade winds in your sails. Explore. Dream. Discover." - Mark Twain
I love Mark Twain. Such wit and wisdom, humor and just great story telling. This is one of my favorite quotes from him and I chose it today because it's been on my mind recently. The other day, it was raining and my partner and his son were watching TV. I had been writing and sitting on my butt as well for what seemed like far too long so I decided to put on the hikers and the rain gear and go outside for a walk with the dogs. When I told Mike that I was heading outside, he looked at me like I was both crazy and stupid. He couldn't understand why I would even THINK about going outside in the...gasp!....rain. He really acted like people have DIED while walking in the rain and I was sending myself into an unnecessarily dangerous and undesirable situation.
But I thought, you know, when I've been outside walking with the dogs - no matter the weather - I have never once thought, "Gee, I sure wish I was sitting in front of the TV right now." In rain, snow, sleet, wind, and sunshine - we've walked in it all - I have always found those moments outside to be my most present and most fulfilling. On my walk that afternoon, I did get wet, but I also explored and discovered the formation of new and tiny rivers, breathed fresh air, and spent quality time with my furry kids. I will never look back on that choice with regret.
Going forward, it's my intention to choose YES to life and action, sailing away from safe harbor, getting out there and exploring, dreaming, and discovering. Even if it's just a walk in the rain.