Chicchantal and I haven't had much luck with our walks lately. I've had back to back colds and coughs for what feels like months, finished off with what must be the most violent upset stomach I've had in my life! Norovirus was mentioned, but I'm not convinced.
Chicchantal has been struck down twice by what my Mum would have called 'the Twingeing Screws!' First her back, then her foot, then her foot, and then her back again! So when on Friday, I got the Spark Message 'Short walkies?' I simply asked, 'where and when?'
I no longer bother to ask 'how far?' since the walks always run the same way. I'm 5-10 minutes early, she's 5-10 minutes late, we walk whatever distance, usually with me whinging all the way, we get there, I'm knackered, we go home!
As usual when we're walking, I had a bad night and I was tired. This was mostly due to having my moth-eaten old black cat draped lovingly around my neck all night, like a rather flatulent mink stole!
True to form, I was at Loughton Station five minutes early, and Chicchantal, on the train behind mine, was five minutes late! So I used my time wisely and took some photos.
Loughton Station is theoretically in Greater London, but is really in the middle of the countryside, and is a typical 1930's country station.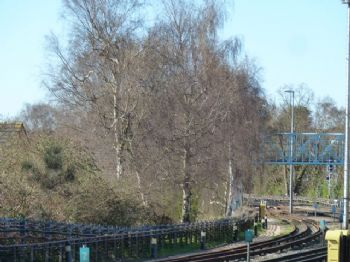 The forsythia is in flower in gardens all over the south east of England
And the station flower bed sported this magnificent dandelion.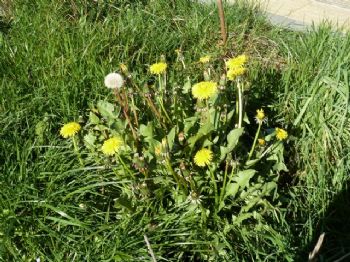 Now I know that they are considered as weeds, but I have a real soft spot for dandelions, with their sunny, cheerful faces, always willing and ready to flower, and it occurred to me that spring in England doesn't come in on a wave of green, but on a tide of yellow. Us in souf Lunnon don't call it 'yellow' however, that's for posh Surrey people like me! It's 'yeller'. In the case of the forsythia, bright yeller.
Back to the walk. The first part when we're out of Loughton, is straight uphill. The day is glorious, it's a novelty to walk in sunshine, and by the top of the hill, my light jacket was off and I'm walking in my t-shirt. Chicchantal is still in her duvet jacket and her hoods up! I took a picture back along the path, but it doesn't really do justice to the gradient.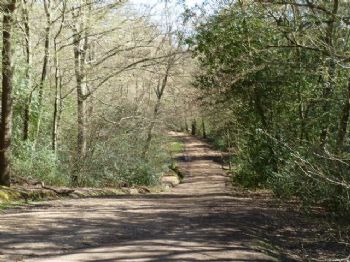 Our first destination is the tea hut! When I first did this walk with her, it seemed to take forever to get there. Now the hour flies by. By 10.30 it's really nice and warm, and the chilly wind that has bedevilled us over the last few weeks, has dropped. We have seen no wildflowers, but the bees and the butterflies are coming out of hibernation. We saw this peacock butterfly, sunning itself and soaking up the warmth on its wings.
There are many tempting pathways leading off the main path between the trees. We won't be able to see them when the trees get into full leaf.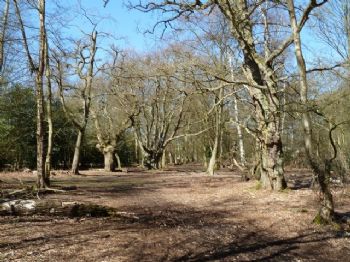 Just before the tea hut we take a small detour to visit our little pond, and I was stunned by the still water and the reflections.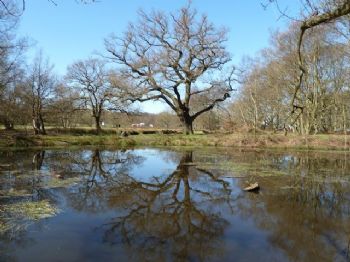 Till they were disturbed by two mallard ducks!
At the tea hut we bought our usual cups of tea and slice of cake, I had cherry cake, I don't remember what Chicchantal had! By this time we were both hungry, and by common consent decided to have our sandwiches, even though it was only 11am! Call it elevenses!
We were walking on to a village called Upshire, then catching the bus to Waltham Abbey. We have walked to Upshire before, but last time it was foggy and cold. We were seeing more butterflies now. This comma posed obligingly for us.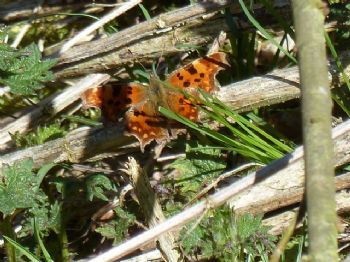 We wondered what they were finding to eat, then saw several more on these Alder catkins, (yeller of course)
Presumably they were taking the pollen.
Today we could see the view over Waltham Cross.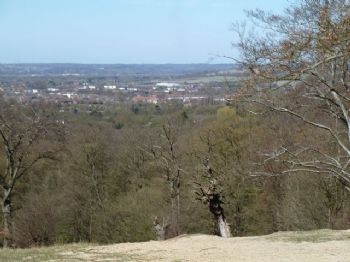 The gorse is in full flower. Yeller, see, there's a theme here!
We crossed the motorway, and took a different path on the left. Last time I was here, this path was a quagmire. Now it has dried out, and we have to watch we don't turn an ankle on the ruts! There's a magnificent view towards Upshire.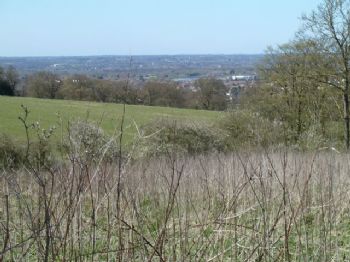 This little chapel is in the distance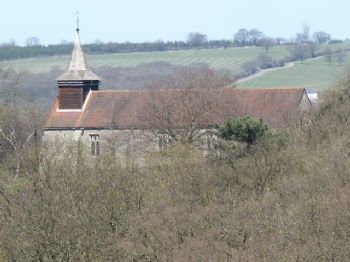 We were now walking on the old common land paths into Upshire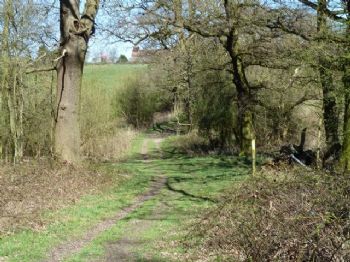 By this time, we were both tiring a bit, and were glad that the bus to Waltham Abbey was sitting, waiting for us. On the way, we went past a bank of daffodils in full flower, and beside them were a carpet of wild celendines. I couldn't take a picture from the bus, but these were in my garden this morning.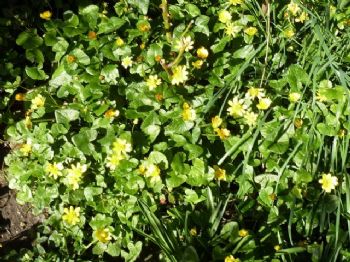 Yeller again! We alighted in Waltham Abbey, and found the high street, and there, all our best Sparking intentions went out of the window, as we found the first pub we came to, that had a beer garden and went inside! Well, Chicchantal's foot was REALLY hurting, no,really!
(Good Sparklers might want to tut-tut and switch off at this point!)
We felt we had earned these!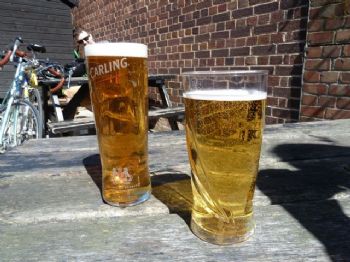 Chicchantal bought these, and of course it would have been rude not to have offered her another in return! By now we were regretting having eaten our sandwiches so early, we were hungry again, so scampi and chips seemed a good idea too.
I'm afraid the next bit was totally my fault, as having been given a list of options by Chicchantal, treacle pud with custard and another beer in my case, and cider in hers, seemed the best option!
So totally refreshed, and Chicchantal's foot having been anaesthetised (I think she was numb from the neck down actually), we set off to finish our journey. We took the bus back to Loughton, then went to find a nature reserve that Chicchantal had seen on the map. Over a little bridge and over a stream, into fields.
It was a pretty little place. Fields and little copses, and layered hedges. Like on the rest of our walk, we could hear the birds, but couldn't see more than glimpses of them. We went through the gate, and walked along a sheltered path.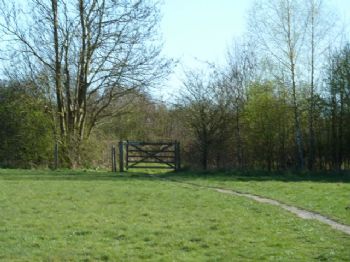 By this time we had covered nearly ten miles the drinks were wearing off, and Chicchantal was limping again, so we walked round in a loop and headed towards where we had entered the reserve. We did first however find Loughton lake, Chicchantal had always wondered where it was.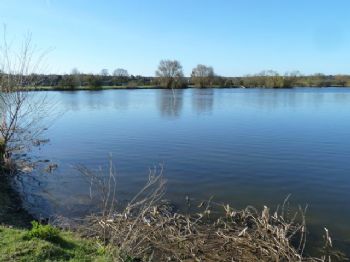 Then, we bused back to the station.
We covered 11.5 miles in the end, and I had sunburn on my face!
On a bank as we left the reserve were these primroses.
Yeller again!