Sunday, April 21, 2013
While trying to stay with my Calorie Cycling and within my Medium calorie range today, I made an egg omelet with egg whites and lots of veggies including half an avocado and 1 cup of cantaloupe for my brunch this morning. Knowing I may not be able to have lunch cause my DH and I were going to be working all day on our daughter's house. We worked from noon until 9 PM . I sure was glad we had such a big brunch. Our daughter cooked us dinner around 7 PM and she made grilled chicken and baked onion and potatoes (no veggies).. The good thing is I had no problem getting my water in and I put in my fitness Tracker just 6 hours as Farm Work and it showed I burned 2410 calories. The tracker does not have anything listed to do with building and we do a lot of that kind of work.
I even took a picture of my Omelet!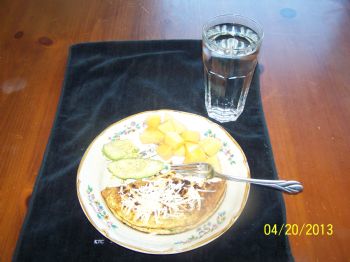 Yesterday's goals:
Workout at my Gym!

Walk at least 30 min.!

Drink all my water!

Stay in my High Calorie range!