My Saturday!
Saturday, April 20, 2013
Today marked one year since my oldest sister Jessie passed away. Some sad thoughts but a lot of happy memories of her. We five sisters got together every year for each of our birthdays, for a lunch, and a lot of talking and laughter filled the air. Now we are down to three of us.
My sister Jessie
Rolly and I went for supper out of town tonight with another of my sisters and her husband and then we went for a nice long drive. Something the four of us love . . . car rides!! We're really like four kids, lol.
I had pasta with a plain tomato sauce and a salad for supper and I had coffee with no sugar . . . no sweetener either, a first for me! Truth, the coffee tasted just fine! Rode my exercise bike today also. Came home from our supper and Rolly wanted to make us tea, he has desserts on the table! It was not difficult at all for me to say 'no' and I feel so good about that! I also rode my exercise bicycle. I consider today another great day.
My bird, Sunny Boy, after he had his bath this morning!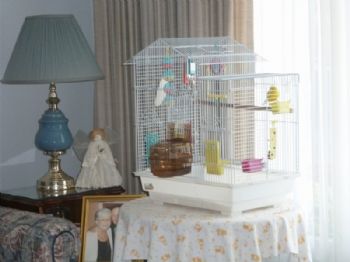 One of my healthy stir fry suppers I had this week.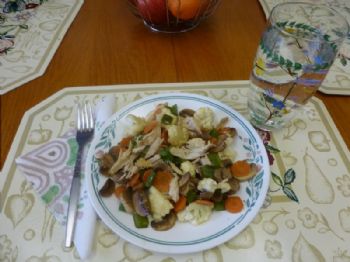 CHEERS!