Saturday, April 20, 2013
This blog is dedicated to my big sister. She is 8 years my senior and did her very first running race today.


to fully understand what that means you must know that she is a smoker, never exercised in her life, and started training as a new years resolution in January this year (after my mother was diagnosed with lung cancer). She is hoping this will help her to quit smoking (which she has not completely done yet) and get a healthier lung for the future.
Anyway, my father and I do races regularly as a "father-daughter" team and after she announced her resolution we decided we would help her to achieve her goal. It is such an important and healthy change of her lifestyle!! It is worth being encouraged! We got her a t-shirt with the word "daughter" printed on it to join our "team" for her birthday (February first) and told her there was a 6km race after Easter that we were planing on doing and that we would be happy if she would join us. And... She did it!!! just fantastic. We ran the 6km in 39.45 minutes not bad for a beginner! Here some pics.
At the registration: my sister, my father and I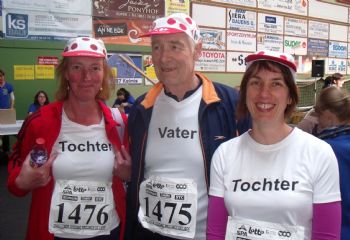 At the finish!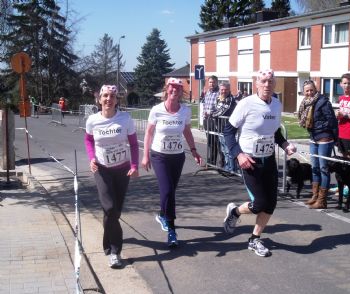 I prepared a certificate for great achievement that we handed to her after the race. And she was sooo happy - and sooo red... lol
She will be running more she said - it was a lot of fun! GO SIS!!!!!