"What the Bleep Do We Know!?" is a documentary-style film that supports the theory that there is a spiritual connection between quantum physics and consciousness.
There is a piece in this movie that I found quite fascinating and very intriguing!
A Japanese man, Dr. Masaru Emoto, did an experiment with water. Emoto stated, "I did not start out with any modern scientific background. I did not even know the limit of science to stop me from giving this research a chance." His theory is that human thought directly affects ice crystal formation, so the structure and the level of detail of an ice crystal is a sign of the water quality.
I believe his unbiased scientific background helped extremely with his research.
Dr. Emoto specifically stated, "I do not require any blind tests on any samples," but rather he believes that "the researcher's aesthetic sense and character is the most important aspect when taking crystal photographs." Emoto's belief that ice crystal formation is sensitive to human thought lead him to select technicians who would not affect crystal formation with negative thoughts over technicians who had formal research experience. BINGO!
Dr. Emoto claimed that high-quality water forms beautiful and intricate crystals, while low-quality water has difficulty forming crystals.
This basic hexagonal crystal is the simplest form of an ice crystal. The ice crystal of distilled water exhibits a basic hexagonal structure with no intricate branching. See below.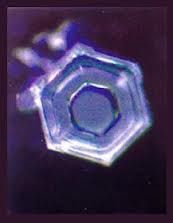 These images are of Emoto's selected photos of ice crystal formation from tap water sources from Paris, London, and Tokyo, and two spring water sources from Japan.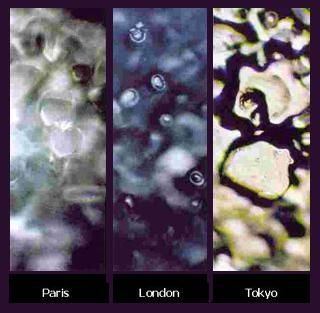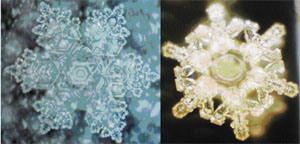 After Dr. Emoto studied the variations in the water crystals from the samples he collected he decided to go further in his research.
Emoto decided to study what would happen to the formation of ice crystals from distilled water after the liquid was exposed to music. He reports that he found stunning connections between the types of music played and the quality and beauty of the ice crystals that would form upon freezing.
Example, the crystal below on the left was observed in a sample of distilled water that had been played Beethoven's 5th Symphony, and the crystal on the right was observed in a sample of distilled water that had been played "heavy metal" music.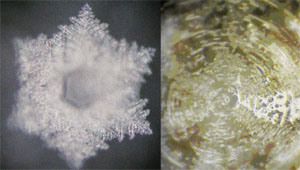 Following his study of the effects of music on ice crystal formation in distilled water, Dr. Emoto wondered if water crystal structure might be affected by other external things, such as words written on paper.
He began by writing phrases like "thank you" and "you fool" in different languages on paper and placing the paper under the distilled water samples. His published photos below show a surprising result. Samples that had been exposed to the words "thank you" displayed beautiful crystals, while samples that had been exposed to the words "you fool" would not form crystals at all.

Encouraged by his findings, Emoto began studying the effects of prayer, blessings, and spoken words. His results point out that water crystal formation was also sensitive to these things. Complying his current hypothesis; "Molecules of water are affected by our thoughts, words, and feelings."
Now here's the kicker and the part I love the best!
Since the human body is composed of between 50% and 80% water and "If thought affects the molecular structure of water, then what effect might thought have on the human bodies?"

I LOVE IT!!
Thanks,
Nikki :)