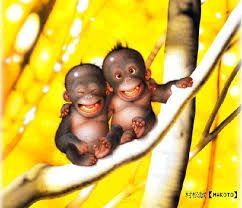 You may wake up this morning and feel low. After you stepped onto that scale it maynot be the number you were hoping for. Just know, that you will reach your goal, you will make it to that healthy state, just just and believe. Smile this morning b/c God loves you with all your jiggly parts. You will be surprise today becuase God will bless you with something for you just to remind you how much he loves you. Don't be down today, with all the things going on in this world, it will get better.
Today's a new day, and there is no sunshine.
Nothing but clouds, and it's dark in my heart
and it feels like a cold night.
Today's a new day, where are my blue skies,
where is the love and the joy that you promised me
you tell me it's alright.
(I'll be honest with you)
I almost gave up, but a power that I can't explain,
fell from heaven like a shower.
(When I think how much better I'm gonna be when this is over)
I smile, even though I'm hurt see I smile,
I know God is working so I smile,
Even though I've been here for a while
I smile, smile..
it's so hard to look up when you look down.
I sure would hate to see you give up now
You look so much better when you smile, so smile.
https://www.youtube.com/watc
h?v=Z8SPwT3nQZ8&list=PLfFy
lQn_sSepgv1ZA_pAEfcb44ynvUux6