Scary night. We received a text that my sister-in-law (and my best friend) was having her baby girl at 27 weeks whether she was ready or not!
Upon getting a bit more info from her husband, we learned it was pre-eclampsia. So, needless to say I didn't sleep very much at all.
But, I did receive a full update from the proud mommy this morning. She did, in fact, have HELLP syndrome which is a form of pre-eclampsia. They originally thought it was her gallbladder, but tests proved otherwise. The whole ordeal of testing, diagnosing, and delivering took 2 hours or less!
So, despite some social media complaints from family that it wasn't handled probably, from a medical standpoint that is NOT BAD. Sounds like she got all the help she needed and fast.
So, bragging rights, my new neice Freya Grace Cox was born at 10:45pm on April 19th, one day before her mother's bday, April 20th that we all were going to celebrate this weekend. She weighs 1lb 7oz and from what I've read her chances are very very good provided she stays 12 weeks in NICU.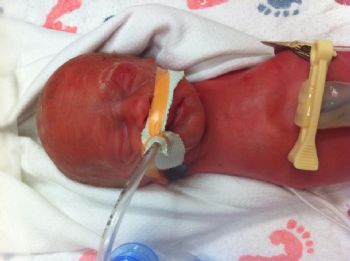 The best news is baby and mom are doing fine. I've already offered my services to drive down there and help out, knowing how hard a c-section recovery is, that process on top of having a 2 year old, AND a preemie in the hospitals sounds intense.
My sister in law only needs to hold out until the end of May though for her husband and my mother in law to be out for summer break until next school year. Until then, I am sure there are plenty of people who can assist her.
I hope we keep getting the good updates!