It doesn't really matter what size I am. I've struggled with body image my whole life. I know the reasons why (my mom had body-image issues; my sister was built so tiny that I looked huge next to her even at 125 lbs; I grew up in an area where the norm was a lot shorter/smaller-boned than me), but that doesn't make the struggle any easier. There's this one picture of me from my senior year of high school that, to me, is the epitome of my struggle: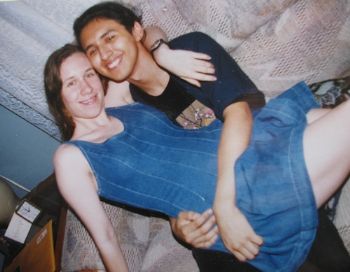 I hated this picture. In it, I'm 5'6 and 125 lbs, and thought I looked sooooo fat. My upper arm! (Um, that's just what happens to an arm when you sit in this position, Amanda...) That crease in my thigh! (Hello, sweetie - you were a swimmer! That's muscle, not fat!) Yeah. So my body image issues go way back, and are completely independent of my size/weight. Still, despite feeling fat at 125 lbs, I just sort of accepted my size as inevitable back then. I didn't try to diet or anything, and I remained steady at 125 lbs until November of my sophomore year in college. This was several months after my first tooth procedure, and I gained 20 lbs in three weeks with no change in my behavior/habits. For a girl who didn't even gain weight when she left home for college, this gain was disconcerting. Worse than that, it increased my negative body image. I felt disgusting, fat, monstrous. For the first time in my life, I became hyperfocused on my weight and size.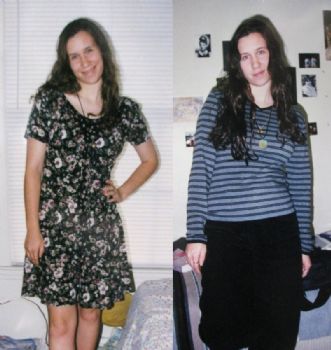 (125 lbs vs 145 lbs - personally, I think I look better in the 2nd pic!)
For years, through my infection-induced weight roller coaster and multiple pregnancies, I tried to get back to 125 lbs, but was never able to get below 131. I was completely blind to the fact that I actually looked better in the upper 130s/lower 140s. I was blind to what I looked like, what my actual size was, etc. I had an incredibly poor self-image.
Then, in 2007, I had a revelation. I realized I found curvy more attractive than super thin, and decided that I no longer wanted to reach 125 lbs. Instead, I wanted to be more like 155 to 160 lbs. I didn't care that technically a healthy weight for me was 154 lbs. I thought my body would look best at 155-160. As I've lost weight and gotten back to 155-160, however, I've changed my mind. Now, my goal is to get back to the upper 130s/lower 140s - the place I think my body and face looks best when I look back at photos over the years. However, who's to say that once I get back there, I won't change my mind again, and push for lower? I don't believe I will, but it's not like my struggle with body image is going to just get better once I hit a magic goal weight.
Over the past week, a couple things have come up that have made me a bit more aware of how blind I can be about myself:
1). Dove's latest in its Campaign for Real Beauty (
realbeautysketches.dove.
us/
). If you haven't seen it, it's well worth your time. Seeing the difference between how women see themselves and how other people see them made me cry. It reminds me of something I learned about in psychology courses a decade ago, where doctors tried to help anorexic teenagers gain a better understanding of their true size. The teens would lie down on drawing paper and someone would draw their bodies' outlines, so they could see, outside of a mirror or photo, exactly what size they were. The teens often didn't believe the body outlines and thought the person who outlined them cheated - they were that blind to their own body image. Just how blind am I?
2) Just the other night, Jason and I were discussing something, and I mentioned that I didn't carry my weight well when I was overweight/obese. He shrugged and said that he knows I don't agree, but he thinks I carry my current weight really well. Our whole marriage, he's told me that this size - right around the 150s - is where he thinks I look best. Of course, he's more concerned with me feeling happy/satisfied than with me staying at the weight he personally likes best, but I know that he worries that I'll just keep striving to get lower and lower, that I'll never be satisfied. Maybe, given past experiences, he has a right to be worried.
Back in the fall of 2001, I got to the low 130s, the closest I'd come to 125 lbs since my tooth infections had messed me up in 1998. I was happy with my body and the way I looked. I was confident and satisfied. Yet, I told myself that I was just being complacent, pointed out flaws, told myself to keep working to get those last few pounds off, until I reached the magic number on the scale. I never let myself be happy, even when I could have been.
I don't want to do this again. Right now, I'm conflicted between a desire to take the next six months off trying to lose weight (and just maintain instead), and the desire to lose the last 15 lbs. But even then, will I be satisfied? Will I be able to stop obsessing? Will I ever feel thin, healthy, or normal? Not if I don't do some serious work on the way I see my body, I don't think. I may not be satisfied at my current size (most of the time, anyway), but I'm getting close to where I want to be, and I don't want to get there and fall into a cycle of perpetual dissatisfaction. I want to be able to accept my body for what it is, flaws and all. The time to start doing this is now, but I have no idea where to even begin. I'm struggling. How does someone change the way they see themselves??