Thursday, April 18, 2013
First, before anything else, I need to thank each and every one of you for elevating my blog yesterday. I write these blogs to share my thoughts and life. Many times they are to affirm my personal motivation and I only hope that they can be useful for you, my Spark friends. So thank you for the honor.
Now on to today! My girls are feeling MUCH better. They really want to get out and walk/run with me. I'm worried about spreading C-Flu, so no walking until Saturday.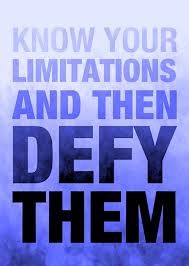 I'm a firm believer that most limitations are BS. We are told things about ourselves and we believe them. The belief is what limits us, not the condition. Don't believe me. Put your arm out in front of you and twist at the waist to the right as far as you can. Make a note where your hand points. Facing forward, imagine yourself turning further. Pick a point in your mind several inches farther from where you pointed. While seeing that point in your mind, close your eyes and hold your arm out again. Twist at the waist without opening your eyes. Once you can't go any farther open them. If you are honest when you do this, you will go further each and every time.
You set your limits. You can change them. If I had listened to the "professionals" I wouldn't be able to walk and I would be on a huge cocktail of meds for my many "problems". I told those "professionals" that they didn't know me.
I've proven each and every one of them wrong.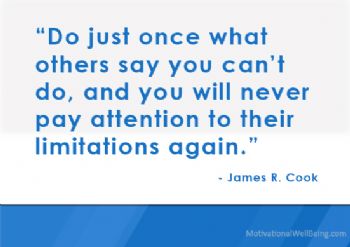 I will never allow anyone to pigeon hole me or tell me what I can or cannot do. Not even that voice in my head. You know the one. "You're tired." "You're slow." "You should just relax." Excuse after excuse – always a reason not to do anything. Always a way to slip back into a dead and dreary existence with no zest for life.
I REFUSE TO BE THAT PERSON EVER AGAIN!! I am healthy and strong. I can have fun. I will never again have a life that is vicariously lived through TV and movies. Spring is here, summer is around the corner and life is an adventure. I'm going out to live it. Each and every day I get stronger – mentally and physically. So look out world – here I come! Who's coming with me?