Thursday, April 18, 2013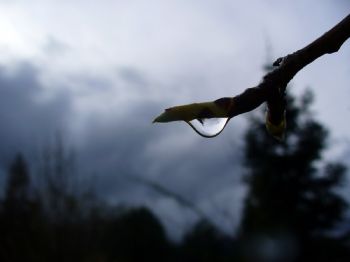 I had a busy day of teaching yesterday but today should be quieter...no students scheduled. I wasn't able to get my work-out in either, but I should be able to today. I'm trying not to beat myself up over it.
I am supposed to meet a fellow organist for lunch to talk about the organist job that, if I am hired, I will be sharing with her. It's raining...we're under a winter storm warning again...the rain is supposed to freeze and we are to get snow and wind later. I just hope it waits to freeze until after I get home from lunch. There are already rain-drops on my windows and it's quite dark outside. Daughter #2 and friends have a camping trip planned...I think they're crazy and I pray they change their minds. I really don't want to hear about someone winding up in the hospital with hypothermia and I'm not sure how well trained they are in winter survival skills, if at all.
We had a church business meeting last night and although I didn't want to go, I felt I should. It was a good thing I did - someone brought up the organ and what should be done, so I had to do a little talking. We have now formed an organ committee to help move forward to the purchase of a new instrument.
I'll be making my Weight Watcher's Italian Stew today. I've been trying to make it for 2 days now, but something always changes and I put it off. I have to make it today, there is nothing left in the house to eat. Last night I was planning ham and cheese sandwiches with fresh baked bread, but something happened and the bread didn't turn out so we had to go to Subway. I just started another loaf and I'm keeping tabs on the machine...it doesn't seem to be getting warm. We need the bread for sandwiches for lunch, so I hope it's working....otherwise, I guess it's back to Subway for Hubby.
Still looking for spring...Curvylady