Here is my invention – my answer to a personal need with no commercial solution.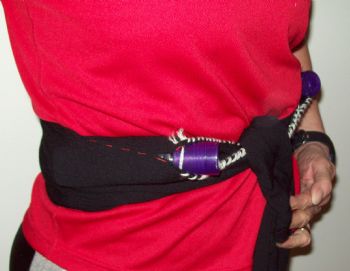 Background:
I have horrible allergies to most of nature. That includes grass, flowers, flowering trees and all weeds, including dandelions. That means that while people are outside celebrating the end of winter and admiring the beauty of springtime, I'm dealing with a blocked or runny nose, red watery eyes, and scratchy throat. If it gets bad enough, my asthma kicks in and I'll start wheezing.
I can control the symptoms with meds (generic chlortrimeton and benedryl), except when I'm running. Since I can't breathe through my nose, I get a very dry mouth and need to sip water at intervals.
Although I have a "fuel belt" if I'll be out a very long time, for short runs and in races I find them to be very heavy and uncomfortable.
Recently I came up with my own solution. With a stretchy piece of material left over from some sewing project, I fashioned my own belt which holds two tiny water bottles. It's very lightweight and I can tie it as securely as I want. It even provides a bit of core support. I added the white wool edging so I could find the opening easily even without looking down for it. The bottles are snug on each side of my body horizontally.
I tried it out in the 5K last Saturday and it worked great. When my mouth got dry I didn't need an aid station, I had my own water and I didn't have to haul around a large bottle with the annoying sloshing as I ran.
Oh yeah, my total cost was the $2 for the bottles I bought at the drugstore. Thrifty me!
Note: The bottles are peeking out only for the photo. I keep them tucked all the way into the belt until needed. For now I secure the tie with a safety pin. I'll add Velcro later on and remove the basting stitches too. Fashion isn't my main goal here.