I was with Nick this weekend. It was really fun and I got to do some amazing things. I made some new friends which is always good. We played world of darkness... because we're geeky like that. Nick, Bendigo and I went on a short ghost hunt at a local cemetery. We took a lot of pictures and even tried EVPs, but it was way too windy to pick anything up. We captured a few anomalies that we just couldn't figure out. We have tried debunking them and tried to recreate what was captured. I'm hoping that some of my fellow paranormal investigators could help me out here.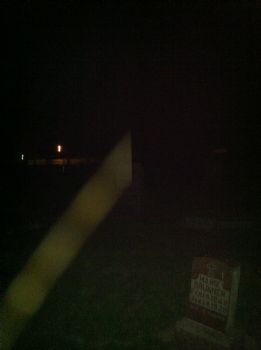 Bendigo captured this on his phone. It's one of the few things we've captured but couldn't recreate. We have no idea what the thick line is.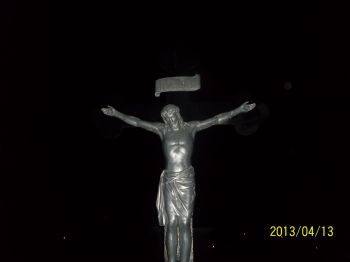 I took this with my camera. on the right side a bit in the corner is an orb. We aren't sure if its just dust or if it's actually something else. The fact that it's by itself makes it weird and we arent sure of it. This is another one that Bendigo took with his phone. There is a thin line that starts in the bottom right corner and diagonals upwards at a slight angle going through a grave stone. It could be glare from a light. I think it's a picture he took a little after the first one was taken.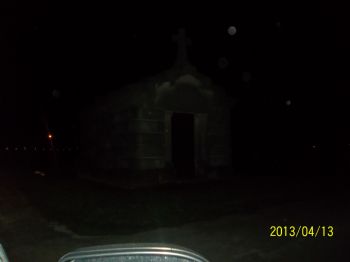 This is the second cemetery that only Nick and I drove through. We took some photos from his truck with the windows rolled down. This particular photo along with several others from this cemetery was full of orb like anomalies that could be dust...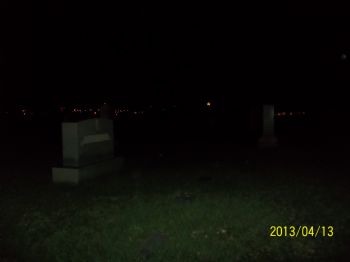 This was also at the 2nd cemetery. Its one of the few that only had one orb in it. It's near a grave stone.
A little bit about the first cemetery: There is a local folk lore about the crucifix. it is said that on a Friday night when there's a full moon, Jesus comes off the cross and walks around. It's also said that a demon sits on the cross. These are things that my friends and I want to see if they're true. I do have a hard time believing in folk lore but I can't deny the fact that it sounds pretty damn interesting. I do believe that it's possible about the demon though.
A bit about the 2nd cemetery: This is more to do with my own experience there recently. We were driving through the far back corner rounding a corner. I was looking at a few of the grave stone and as I was shifting my eyes from one to another I saw what looked like a shadowy figure of a man crouching down and moving away. I snapped a couple of pictures but didn't get anything to validate what I saw. I rule out that it wasn't my glasses because what I saw wasn't in the corner of my eye. It was right where I was looking! I'm a bit disappointed that I couldn't capture what I saw, but it happens. I'm sure that if I continue on this path I'll have more chances to capture things.
All we had was phones and a camera. My camera doesn't have night vision, sadly. So we were content with taking pictures. Hopefully next time it wont be as windy so we can attempt an EVP session and hopefully get something validate our experiences. And maybe we can even get Jesus coming off of the cross on film!!
The pictures are small, so it'll be a bit hard to see things :(