Good Morning, SparkFamily!
I'm having difficulty uploading videos. I'm convinced Spock (ubergeek hubby) and Gigantor (manboy) have done something nefarious to my computer which is inhibiting my uploading marathon. I have vlogged everyday some nonsensical, distracting banter of warm fuzzies and I can't upload.
[HOLY HEAVEN is that a frog?! It's like barely morning froggie dude. SHUDDAP! How did he not freeze in the Ice Storm? How is it that I was wearing a parka on Tuesday, picking out bikinis Thursday and wearing a miniskirt yesterday? Ontario is on crack.]
Where was I? Yes, uploading not happening until the boys can undo their dark magic and let me play again.
So, brief update that will be erased until I get a blogging file system on spark.
(To be on the Blog panel but have a basket for: Personal Vent, Woo Hoos (the PG-rated ones), Hula Hooping)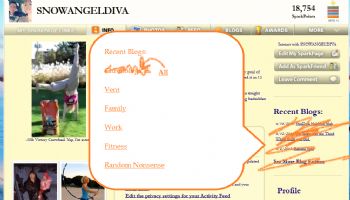 My husband broke his hand.
[NOW THE BIRDS?! What is wrong with silence slimy, feathery woodland creatures?
Maybe the birds are trying to tell the frogs to shuddap too.
or eat them.]
Moving on.
Hubby, the Custodian, busted up his mopping hand. It was his first fracture and it was diagnosed on his birthday. He's 39 and falling apart.
Hubby escorted me to the gynecologist appointment that I've been avoiding like the plague (Happy Birthday, Dear Hubby!..). Remember that I mentioned the GP said my uterus was tilted and that it needed a sling and he couldn't finish the lovely pap until that was taken care of? No? Well, now you do. So, I had the Gyn appointment and it turns out that the whole problem could've been ratified 20 years ago when I first saught help. I was told my bladder was small and incontinence was going to have to be worked around. THe Gyn made profuse apolgies for his inept colleagues from 20 years ago and said I have 'Stress Incontinence' it has nothing to do with babies, pregnancies or the moon. All I need is a 15 minute procedure and he guarantees me accident-free trampoline marathons.
That means I can run.
That means the Warrior Dash is a possibility next year. I'll be missing this one in July, but, next year.
I am WARRIOR!
My Gyn Dr. said so. Well, he said my muscles were strong and the lifestyle I lead is healthy.
Happy Dance (the non-impact kind - for now).
EDIT:
Being consumed in the daily vibes of home life I didn't hear about the Boston Marathon tragedy until just now.
My very deepest sympathies, Boston. I'm so sorry some cruel person(s) chose to target such a joyous celebration of healthy life.