Monday, April 15, 2013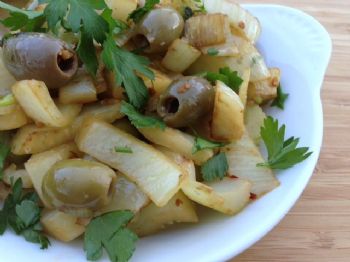 The image of a woman working in the kitchen seems to be one that many American women find offensive and demeaning. Some women who don't cook seem quite proud of that fact. They wear it like a badge of honor. Recently, at my daughter's school, I overheard one mother say to another, "I don't cook!" with such outrage and disgust, you would have thought she was defending herself against some terrible accusation: "I don't steal!" "I don't cheat on my husband!" "I don't leave the tags on clothing, wear it and then return it!"
I understand completely the idea that women don't want to be limited by a gender role that forces them to cook and clean, to the exclusion of pursuing their other interests and passions. But to shun the kitchen and regard it as a place that's "beneath" us is foolish and backward thinking. And from a health perspective, it's downright dangerous...
(Read the rest of this post at SiciLean:
www.sicilean.com/2013/04
/sauteed-fennel-and-olives
.html
)