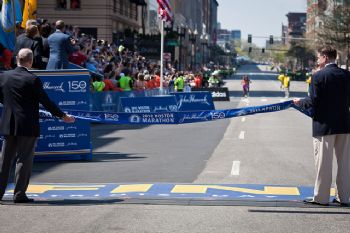 Like many of you, I am horrified and devastated by the events today in Boston. My mind is reeling, and I've been vacillating between pissed off and heartbroken.
But I want to turn this into something positive. It's too early to do much for Massachusetts yet (although giving blood in the coming week is a good first step) but I'm going to turn my emotions into positive energy.
Inspired by my cousin, tonight I'm going to run for Boston. I'm not a great runner, and I've never managed a mile, much less a marathon, but I run. And tonight, I'm going to do it in memory of those lost, in support of those injured, and in defiance of those responsible.
I invite you to join me. Can't run? Walk. Can't walk? Shuffle. Can't shuffle? Do something active. I'm doing this not just for those killed, including that precious child, but for those runners who ran to the hospital to donate blood. The cops and others who ran towards the danger. For the hurt, the brokenhearted, the surviving, the lost. The families trying to find their loved ones, the men and women who will be up all night trying to find answers, either officially or just to find out what happened to those they know and love. For those whose dreams are shattered today, either because they were unable to finish the race, because they were injured, or worse.
Let's do this together. Tonight, let's wipe away the tears, and run for Boston. And maybe tomorrow, or later this week, too. Let's do it for them.
And pray for answers, and justice while we do.
Photo courtesy of the Office of Governor Patrick
www.flickr.com/ph
otos/massgovernor/7085832531/