Monday, April 15, 2013
Here we go! I have now set a goal for myself to keep improving my health and to lose more weight: 27 pounds by the end of the year, to be exact. I'm so excited to do this! I'm going to be losing this weight at a slow pace of about 3 pounds per month. I'm confident that I can do this. I've lost 33 pounds already which proves that I have what it takes to lose weight and keep it off.
There are 260 days left of the year 2013, and by the time we enter year 2014, I'll be 60 pounds lighter than when I started! I'm so excited to start this journey once again. I've maintained for so many months now that I just can't wait to start seeing the scale move again!
My goal is to get down to 154 pounds by the end of April. My last weigh in was 158 pounds so I'm hoping to lose about 4 pounds this month. I will not weigh myself for the next two weeks: it will motivate me to work hard every single day to make sure I meet my goal.
I'll be updating my blog a lot from now on. It helps me to stay accountable and motivated to share this journey with all of you (and get support and advice along the way!).
Here's how I did today:
Calories consumed: 1,260
Calories burned: 640
Calorie differential: -1,118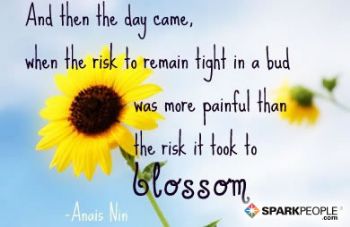 I'm ready to blossom :)