260 at 100 days in..
Sunday, April 14, 2013
I just realized that the past three years, no matter how my weight has fluctuated during the year, I consistently hit mid-April at 260 pounds (my recent high weight this month, this year again).
2008- Elated to be down to 368 from over 375 Jan 1
2009- 260 on 4/15
2010- 254 on 4/21 (and up from there)
2011- 260 on 4/13
2012- 255 on 4/14
2013- 260 on 4/10
People have their own cycles, and mine swing long and wide. It's sometimes difficult to see patterns, and easy to deny that I binge or fall into any predictable behavior. But the truth is there.
100 days into the year is always a changing point for me. For better or worse, it is. And this year it will be for better. I need better health and better happiness.
My recent experimentation with eating whatever I thought I was wanting (I hesitate to say "craving") at the time has taught me a few things. But I'm still not sure what keeps me coming back to this weight.
So I'll start building my baby steps and healthy habits, each time hoping its stronger. Like the 3 Little Pigs, my house of brick is next. It'll be the one that this Wolfkitty can't blow down, but can safely reside in against it all.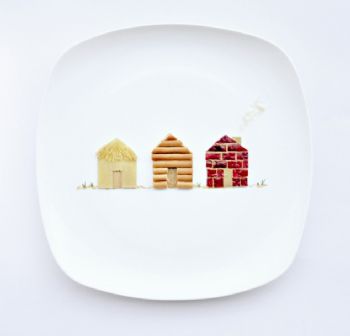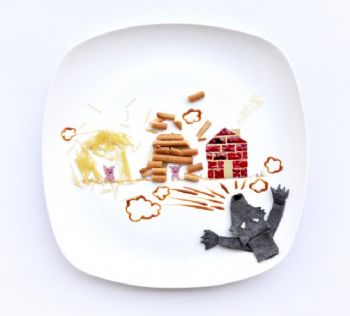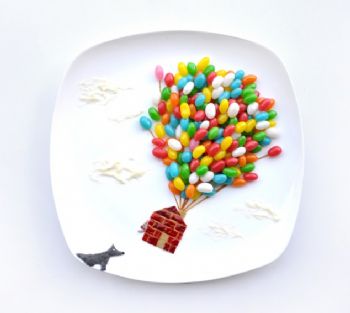 Art by Hong Yi
twentytwowords.com/2013/
03/20/the-three-little-pig
s-illustrated-with-food-3-
pictures/
Her page:
www.ohiseered.com/2013/0
3/my-version-of-three-litt
le-pigs.html