The tulip/daffodil fields are covered in rain
Sunday, April 14, 2013
My family and I went camping near the towns in Western Washington where tulip and daffodil fields bloom in Spring. The weather was mostly cold and rainy, so we only drove past a field during a break from the rain. As you can see, only half the field has daffodils growing. I think that's Mt. Baker under all those clouds, if you can see it: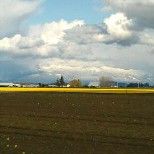 We went over a bridge. There are so many islands, channels, sounds, bays in Western WA... I don't know where we were.
We also went under the bridge:
Sunset over the Skagit River:
On our way home, we stopped at a beach north of Seattle. Yay for some outside time!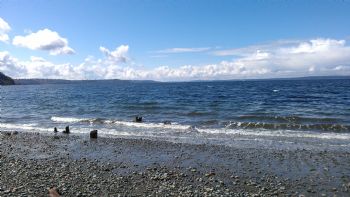 We had a relaxing weekend of Outlet Mall shopping since the weather didn't cooperate for all of our outdoors plans. But I'm happy I came home with a few pretty pictures for you.
Have a great week!