So, my big turning point to "really get serious" rather than half-heartedly" trying to lose weight happened around Christmas. We went to Six Flags with bf's daughter. I loooove roller coasters, so I was set to have a great day.
On the second ride of the day (Tatsu for anybody who's been to Magic Mountain), the ride was one where you are hung from the track looking down.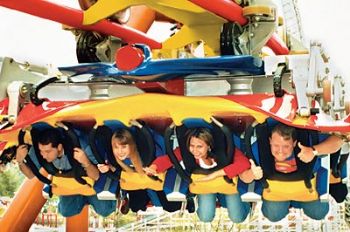 That's the best picture I could find to show you. You get in, and you are putting your full weight on the harness essentially. So... you get in in a regular sitting position, pull this harness down & click it into place. After everybody's safely inside, they rotate the seats so you're facing the ground.
So there I am hopping in... and I can't get the harness to lock. The operator walks up & shoves it in and it clicks and I'm INCREDIBLY uncomfortable, but whatever. This is gonna be a great ride! And then as they're checking the rest of the seats, I hear a loud click. A minute later the guy comes up & pushes my harness again. It had unlocked and had to be relocked.
I was on a ride where the only thing keeping you attached is this harness. And mine unclicked. So off we go and I'm TERRIFIED. I spent the whole ride considering what trajectories I'd be going off at if/when this harness unclicked again.
After that ride, I made a declaration. Literally. Out loud. You could say I was scared straight. Later in the day I went to get on a different ride and couldn't fit on. That was embarassing. But the fearing for my life part was DEFINITELY what did it for me.
Sooooo anyway! This weekend we returned to Six Flags! I know I've lost a good bit of weight since Christmas and went down a pants size, so I had an idea of what to expect. What I WASN'T expecting was to be able to fit on every ride with no trouble whatsoever. Not only did nobody have to help me get on Tatsu, but I could click it TWICE! I still feared for my life, but this time I knew I wasn't one click from death lol
I even braved some rides I stayed away from last time! I left the park last night feeling accomplished. I got to spend the majority of the day worrying about what we were going to ride next, not if people were staring at me or if I'd fit on the next ride.