Sunday, April 14, 2013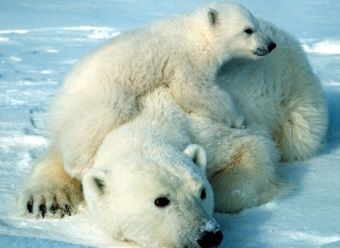 Laughing this afternoon when thinking about our week of concentrating on freggies...Polar bears don't eat freggies!! Sorry, their diet just doesn't include much but seal of various kinds...but they are able to fast for up to 8 months!!??!! ...sorry i can't go that route either... So here is another mother and baby picture to enjoy looking at.
My shopping for freggies was not too encouraging ...did get a few new ones...mostly just splurged on ones that I usually just don't afford but am going to enjoy for this week then back to regular ones...Like 12 oz frozen raspberries for $4 but fresh ones were twice as much... got a parsnip, a turnip, a rutabaga, planction [like a banana], endame, blood orange, spicy sprouts, english cucumber, mango, jicama, ugly fruit, star fruit, three different kinds of apple, marion berries...So should have two special things to try each day if i am figuring this right... What are you adventuring into?