My Past is Not My Present
Sunday, April 14, 2013
I have a grey pant suit that I haven't worn in a couple of years. The pants were a little too loose when I first got them and so I ended up not wearing the suit very often, favoring a very comfortable brown suit that fit better. I tried the grey pants on today, knowing that I'm heavier now and thinking they would fit great. Guess what? They're now TIGHT.
I know that food tracking, eating and my aging body (I'm 36) have been constant topics here as I try to figure myself out. I was always thin and, even in my 20s, if I noticed that I was gaining a little weight, I would exercise for a couple of weeks and I'd be right back to where I wanted. In grad school I took my weight and blood pressure every month; I still have the log and I was between 126 and 132 pounds every month for about 2 years. Take a look: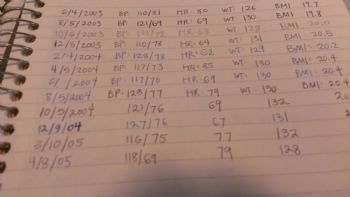 I'm 20 pounds more than that now, 8+ years later. If my then-boyfriend was to see me now, would he think I got fat?!
I never understood why or how people gained weight or had trouble maintaining. I guess I always thought that if I didn't have children (which I am not planning on doing), then I wouldn't gain weight. That doesn't seem to be the case; I've been noticing this for a couple of years already. I think I've been in denial over my weight gain, even as much as I talk about it here.
My body at age 36 is not my body at age 26 and I need to learn how to adapt. I can do this.