Saturday, April 13, 2013
In the Stash Buster challenge I chose to knit a wrap and did not think it would knit up so quickly. So I have completed it already
.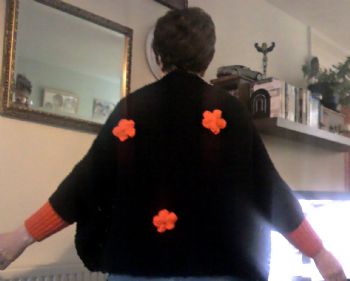 I added the flowers to brighten it up, the cuffs and flowers are scarlet not orange the camera does not always get the colours right.
So now I am embarking on another project in the April Stash Buster Challenge, making 8 inch squares for a blanket. I have 984nyards to use up in DK yarn so I should get a few squares out of that.
The baby blanket for Sands Charity is doing well I have the border to make for the top and bottom and it will be done. When it is complete I will post a picture of it.
This weekend I give Dean and Chizzy (Son and DIL) all the things I have knitted for their baby my Grandchild I am looking forward to doing this, I really hope they like what I made, 3 blankets, 2 sets of cardigan , bootee and hat, 5 toys.
So Sunday dinner and then the gift giving, I am excited and nervous all in one why I should be nervous about this I have no idea. Maybe because it is the first time I have been able to make something for a Grandchild. My other 4 Grandchildren do not know me and I had nothing to with them, their Mothers ( my Daughters) choice not mine. So maybe I am a little nervous as I am finally going to be a real Grandmother and I want things to be just right.
Sunday 19:45 GMT
Dean abd Chizzy have gone home and they love the things I made for the baby

The big rainbow blanket was the last otem they opened and Chizzy exclaimed 'WOW that is amazing I love it thank you. You added all the colours I love' I was so pleased.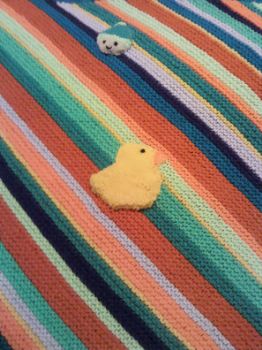 Duck on Rainbow Blanket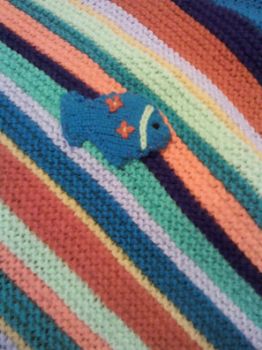 Fish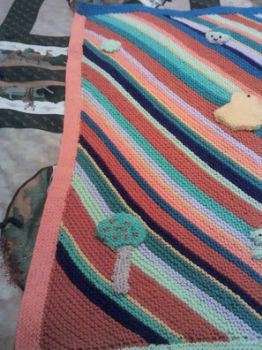 Left side of blanket