Friday, April 12, 2013
Yesterday, I officially completed the Butt Bible. Although I am very pleased with the results, they weren't as dramatic as I was hoping. Especially considering that I incorporated running, Ab Ripper X, and Killer Abs by Jillian Michaels. Then again, I was pretty lax with my diet...

. As I was using this program as a means to get back into a healthy life style, I decided to focus on making exercise a habit (not that I wasn't conscious of what I was eating).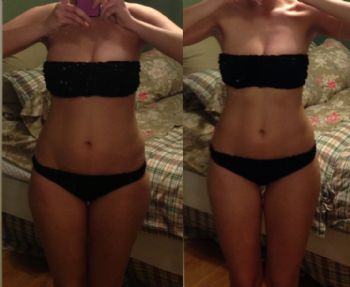 I don't have any back shots, which would have made more sense given that it is the BB

.
Tonight, I'm looking forward to popping in the L1 workouts, and doing both lower & upper body. They are only 20 minutes apiece, which should be easy peasy at this point. I am interested in seeing just how easy they are in contrast to when I started 6 weeks ago!