What they say about the English is true

Wednesday, April 10, 2013
We have really got a thing about the weather. Take me, for example. When I got home from work this evening, I went to look at the weather forecast. I've been doing this twice a day for six months. This is what the Met Office said for Sunday:

For a moment, I genuinely did not take this in. I sort of thought the forecast for Sunday was part of the page border or something. Then I looked again. Then I went to look at the other weather forecast, the one on guardian.co.uk (always good to get a second opinion and this one's always better) and this is what that one said: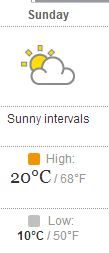 Then I hopped round the sitting-room (still got a sore foot) laughing like a maniac.
Now I'm just off to plan a wonderful walk for Stonecot and me. It will be short, because of my sore foot but we will be looking for spring flowers, fleecy little lambs, warm breezes and blue sky.
You can all look forward to photographs of the glories of the English countryside in spring.
Don't even THINK about mentioning how changeable the weather is this time of year.
Member Comments About This Blog Post
SUGAR0814
The weather is crazy all around! Hot one day & cold the next!


1533 days ago

NEWMOM20121
Can't wait to read about your walk.


1533 days ago

LYNCHD05
Weather forecasts are the same around the world. Take your pick.....as my DH would say it is cya!!!!
Enjoy your walk and take lots of pics!


1533 days ago

CJYOUCANDOIT
It is crazy here as well. Only we are going from 50 degrees to 6 - 12 inches of snow. It is snowing right now. No walk for me today. Back to the old reliable exercise bike. I will look forward to seeing your beautiful flowers. Go carefully. Don't want you to hurt more.



1533 days ago

GAILRUU
No spring here yet. We still have lots of snow on the ground and are expecting up to 6 inches more today and tomorrow. My DH put the plow back on the truck just in case he has to open up our road.


1533 days ago

IAMTOLOSE


Enjoy your walk! I keep checking the weather as well. Guess I think it will change. It's rather like check the fridge to see if by some miracle some new and exciting food has appeared. lol


1533 days ago

NIKKIJ55
Do be careful on the walk!


1533 days ago

SIMPLYABUNDANT
Changeable? I've had both the heat and the air-conditioning on in the same week.

Looking forward to reading about your walk and seeing what spring looks like over there. Take care of your foot!



1533 days ago

THEIS58
Great!


1533 days ago

SIMONEKP
Love your walk pictures, can't wait to see others. Hope your foot heals soon. I had some issues for about 3 weeks and it is rather annoying isn't it?


1533 days ago

DJSHIP46
Hope it's bright and beautiful for you... can't wait to see the pictures:)


1533 days ago

HLOCHRIDGE
Can't wait for the pictures!!!


1533 days ago

WILSONWR
I look forward to the new pictures. Enjoy your walk!


1533 days ago

FANCYFREE15
Can't wait to "join" you on your walks via your commentary and pix! It will be a welcome respite from the ice and snow that still covers the ground here in northern Iowa!


1533 days ago

DESERTDREAMERS
I fiendishly check the hourly predictions for the mornings and evenings, the 2 times I'm most likely to get in the dog walk. A couple of weeks ago, I was thinking I'd have to switch soon to walking them after I get off work in the mornings - then the cold front moved in. Got my alarm set for 1630 for yhe next few days. When summer hits, tho, there's no way I can take them out in the 90F plus heat - so, it's drag them around in the mornings.


1533 days ago

PENNYPACKER3



1533 days ago

NEWTINK
I hope the weather stays nice for you


1533 days ago

MIMIDOT
Have a good walk. Can't wait to see the pictures. Enjoy!!!


1533 days ago

LOOKINGUP2012


Hope your walk is lovely!


1533 days ago

MOMMY445
take care of yourself! i am also looking forward to seeing your photos. have a great day!


1533 days ago

CHRISTINECAN
Ok so it looks like it isn't just the Brits obsessed with weather! The Russians and Canadians are 'supposed' to be the worst but it looks like we have covered the ap.


1533 days ago

JANETRIS
Can't wait for the pics!!


1533 days ago

GARDENCHRIS
I so hear you..... on the other side of the pond it is raining and calling for SNOW this sunday!!! So I am very jealous of your sunny weather!


1533 days ago

JANEMARIE77
have fun and I'll just wait to see how kind mother nature treats you


1533 days ago

DRB13_1
excited you are the featured blog today, looking forward to pictures!


1533 days ago

HEARTS116
Excited to see your pictures!


1533 days ago

LEANMEAN2
We've gone back for another taste of winter. Yesterday the high temp was 38 degrees F. here in the southeast corner of Kansas, USA


1533 days ago

SHERYLP461
yes, can't wait for the pictures


1533 days ago

NILLAPEPSI
I guess what they say is true . . . the sunshine not only helps the flowers bloom, it helps us bloom.


1533 days ago

WATERDIAMONDS


can't wait for your pixes--especially of the little lambs...


1533 days ago

OFGREENGABLES
are there seriously little lambs near you?


1533 days ago

BLUENOSE63
Funny we Canadians, including our favourite British born transplants, are obsessed with weather....it is the first thing we watch on the news when waking and the last thing we see when the bedtime news is on......pretty much guaranteed it will be one of 4 things: sun, cloudy, rain, snow during the year


1533 days ago

PENOWOK
We're a bit obsessive about the weather in parts in the lower 48, too! We just had 20 some inches of snow-no walks in sight for at least a few days with snow in the forecast for every day for a bit now. But we need the moisture so I shan't complain!


1533 days ago

TDEMAIO2


Have a nice walk : ) we are looking forward to your pictures


1533 days ago

BESSHAILE
First thing I read every morning is the weather report - even if it's the same as yesterday's - I like to be reminded. Comes with the walker's territory I believe.

Can't wait to see your fleecy lambs.


1533 days ago

KELLYPAQ
Spring has yet to come to my area yet. I'm trying to be patient.


1533 days ago

NASFKAB
interesting & true


1533 days ago

TORTOISE110
It occurs to me (while reading this and the many comments we write on weather on Spark) that the weather really matters to us. We outdoor athletes need to deal with it to do what we do!! Just like farmers (-:

Have a great walk and you know the deal: no bad weather, only bad clothes!!! Love this blog.


1533 days ago

TRYINGHARD54
looking forward to your photos... lets gooooooooooooooo


1533 days ago

HEALTHY4UNI
Good for you and Stonecot! Even with a sore foot, your heading out for that walk! And what a beautiful out look on your day looking forward to seeing little lambs and beautiful flowers in the spring sun! A sunny disposition is what it takes to have a blessed day!




1533 days ago

SANDYCRANE
Finally. Yeah, can't wait for the pictures. Take it easy and congratulations.




1533 days ago

GHOSTFLAMES





1533 days ago

DSJB9999
And what a great topic for conversation as well! If you meet someone knew you can always talk about the weather.

Hope your foot is better soon

for sharing


1533 days ago

INCREDIBLYME
still dreaming of a forecast like that. today ours was filled with Aprl 'snowers'


1533 days ago

LIZALOT
Hope the weather stays fine. As a Brit in France, i am constantly looking up Meteo France desperately seeking some hope of sunshine. Not much of it around.
Hope you get the walk in, and go easy on that foot!




1533 days ago

MARMAERT
while we're on the weather (bizarre would best describe it), our weather forecast for tomorrow is currently saying a HIGH of 34 (1 C) and a LOW of 35 (1C) - what??? had to read it 2x to make sure I was seeing it correctly. After the last lovely 2 days, in which I was able to get 2 - yes 2! - 2-mile walks in and just a light jacket with short sleeves under it, now it's back to heavy dark winter coat, gloves, long sleeved shirt, scarf, etc. freezing rain tomorrow, too - Woo-Hoo! can't wait to see your sunny pictures of the charming English countryside! watch out for cows, mud, and horses on your jaunt!


1533 days ago

REGILIEH



1533 days ago

STAREYES723
I hope your foot gets better soon. I live in Colorado, so I totally understand crazy weather and we have to plan day by day around here.


1533 days ago

DESERTGOLDFISH
hope the weather behaves and you get your walk-i went thru foot woes last summer myself and it really had me in the dumps. Im glad you are persisting in swimming it is excellent exercise-look at Ryan Lockte (i mean check him out hes hot!)


1533 days ago

AUSFAM
Be careful with your foot but have fun and soak up some sunshine!!! :)


1533 days ago



Disclaimer: Weight loss results will vary from person to person. No individual result should be seen as a typical result of following the SparkPeople program.
More Blogs by CHICCHANTAL