Wednesday, April 10, 2013
Hope everyone is having a good week so far! I am just loving this hot weather, I don't care that we skipped over spring and went straight to summer! It's doing wonders for my mood and energy level.

I decided to take my measurements this morning because I hadn't since October and I've been somewhat frustrated with my lack of "progress." I've been pretty much maintaining my 10lb weight loss and I guess I'm trying to lose 5 more vanity pounds but I think my body has settled. Then again if I'm honest with myself I've been more in maintenance mode than what I was when I initially lost the weight. I keep gaining and losing a couple pounds within those 5 vanity pounds. I go back and forth on what those 10lbs mean to me, since 10lbs isn't a lot but being petite, I think they are but then again maybe I just think that and there really isn't a noticeable difference. I also want to focus less on lbs per se and more on muscle definition and the like. I have gone down about a size, and now I wear a size smaller on my bottom than on top and it's making me paranoid that I've turned into an apple shape. It makes me especially self conscience to be "larger" on top because I think it's in part due to my arms. Is it bad that I actually hope I have a warped body image on this?
Anyways, my measurements revealed I had lost .5 inch everywhere (waist, hips, upper arm-yeah!) and a whole inch on my thighs. Is that normal for inches lost to be varied between areas of the body? I thought it would be more uniform especially if one is focused on full-body exercises, well unless the PT really is doing a lot.
Anyways, I wish I took before pictures but I think my physical therapy is personal training for my legs! I now have THE DENT. I didn't even realize this was really a "thing" until Jillian talks about how sexy it is on her Body Revolution. Thanks a LOT Jillian. But behold, proof(!):
And here's another of me imitating a VS model (I know, I know, bad) but then again, this position is SOOO awkward sticking my hip waaaaay out and I started cramping lol. I don't know why I do things sometimes: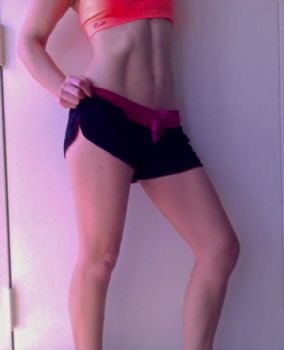 Let's make it a good one!