I have been doing so well lately. Feeling IN CONTROL like every day. Then I have a few bad days and it is like I just stop believing in myself all of a sudden.
I can be thinking so clearly and see that finish line within reach and then the next day it seems like an impossible thing.
Amazing what an upside down week and a bad night sleep can do to our heads.
Sigh... Hubby is working nights again this week and Monday night I hardly slept. First because I just couldn't sleep for some reason then I had Santiago to thank for taking away the rest of the night. I don't know what was up with him but he was even crying while he was sleeping! Those nights happen occasionally with kids I know it is not a surprise to me but on weeks like this the last thing I need is to feel like it is midnight at noon!
Yesterday I did not feel like tracking my food at all. I felt like it was pointless for some reason. And today... Well looking out at another day like this is not helping.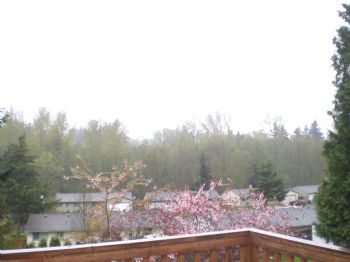 I hope I can turn my day around... I didn't make "bad" choices yesterday. Just didn't stick to my usual plan of limiting grains or fruit like I recently started trying to do. So it just made me feel like all I can do is maintain and more progress as far as reducing the stubborn fat layer on my tummy is just never going to happen so why bother telling myself I can't have healthy stuff I feel like having...
The last two weeks I did really well with my carbs actually. For the first time ever I even managed to get my carbs under 20% That is super low for me. I use to be happy with 40%! I thought this week would be great too and I was determined to do the same even after DH let me know he was working nights.
Ugh I don't know what is up with me but the other thing that is really making this week challenging is aside from the bad night Santiago is missing the boys after having them home for spring break so he is very clingy. Yesterday he was laying outside of the shower while I showered even lol! He had not done that in a while.
Getting my thoughts out always seems to help. I think getting this out is helping already. I am going to try to turn my day and week around. The least I can do is maintain. I will have to be happy with not gaining anymore than I already did over the weekend with my cheat day. (yea had one of those on Sun. Again!)
Hope all my spark buddies are doing well! I am going to squeeze in a short workout before heading out to a Dr. apt. (routine stuff) have to drop off the little guy at sis in law's. That might give me a little mental break too. (trying to look at the positive side... really do not enjoy sitting at Dr. offices lol)
Thanks for stopping by my not so positive blog