Wednesday, April 10, 2013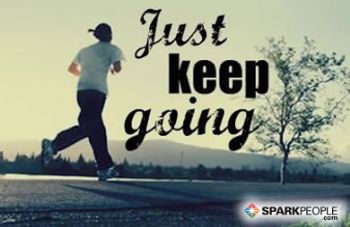 One of the biggest weight control mistakes I have seen over the years is people starting too fast with a finish line firmly fixed in their sights. Their commitment and eagerness for results takes them off the starting line at top speed. They change their life drastically in commitment to their goal. They dig in, push hard, and keep their eyes on the finish line at all costs, weighing themselves frequently and getting upset when the needle doesn't fall quickly. Unfortunately, they forget one key thing. This is a new routine for the long haul not something drastic for a quick fix. When that reality sets in, they soon realize their pace is unsustainable and begin to slow down and give up in defeat because it was just too much. If they reach the finish line, many of them quickly return to the life they had before the race began because they felt they were missing out. Oh, they would willingly attempt to run the weight loss race again, repeatedly. They may try a different racecourse (diet plan) but they take off in that weight loss race at the same pace and it quickly ends like all the others.
To find success you have to accept one important but simple truth. This journey is for the rest of your life!
Read more about winning the race of a lifetime and how you can win.
www.dailyspark.com/blog.
asp?post=one_step_closer_a
_journey_for_a_lifetime